Print Friendly Version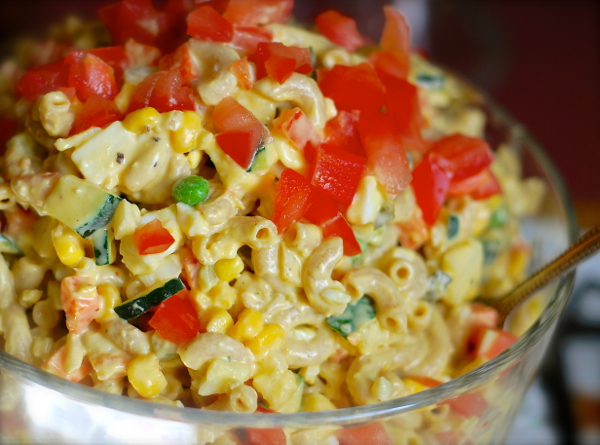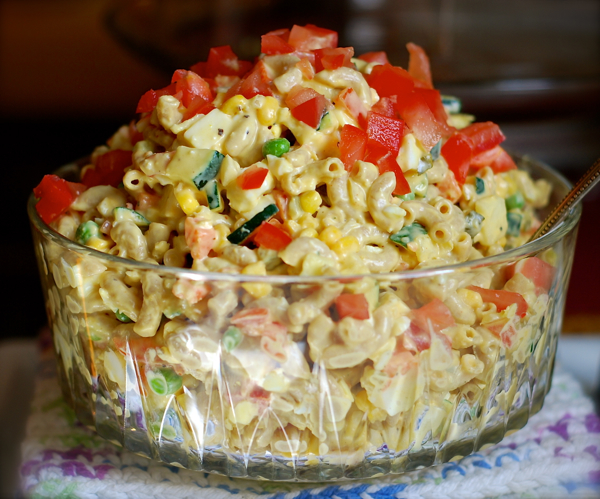 If you're looking for a delicious, different macaroni salad to make for your next gathering or potluck, this is the salad for you. It's so pretty with all of those colorful, veggies! And it's so delicious with that slightly sweet, creamy dressing. Feel free to substitute other vegetables for the ones listed, if you come across one you don't care for. Add celery if you like more crunch. Substitute seeded, peeled cucumber for the zucchini if you wish. You'll find this is not only easy and delicious, it's a versatile salad too.
1 lb. elbow macaroni, cooked just until al dente
8 hard boiled eggs, peeled and cooled completely
2 cups peas and carrots (completely thawed if using frozen)
2 cups corn (completely thawed if using frozen)
1/2 cup chopped onion, any type
2 cups chopped zucchini (1 medium)
3 Roma tomatoes, seeds removed, chopped
1/4 cup to 1/2 cup chopped sweet pickles
approximately 1 and 1/2 cups real mayonnaise
1/4 cup yellow mustard
2 Tablespoons sugar
1 to 2 teaspoons freshly ground black pepper
1 clove minced garlic OR 1 teaspoon garlic powder
1 Tablespoon ranch powder
1 Tablespoon of your favorite hot sauce
8 oz. Mozzarella cheese, cubed small
fresh garden herbs, (optional)
Cook macaroni according to package directions for al dente pasta (I cooked mine for 7 minutes.) Drain well. Rinse and gently toss under cold water until pasta is cold. Drain very well and place in a large mixing bowl.
In a separate bowl, place the peeled, completely cooled, hard boiled eggs. Mash using a potato masher. Add these to the macaroni along with the peas and carrots, corn, onion, zucchini, 2 of the Romas, and pickles. Mix well. Add cubed cheese. Mix well.
In empty bowl that you mashed the eggs in, make your dressing. Combine: mayonnaise, mustard, sugar, pepper, garlic, ranch powder, and hot sauce. Adjust flavor to your specifications. You may need more mayonnaise if you like your macaroni salad extra creamy. Mix well and pour over salad ingredients. Toss gently until everything is coated and evenly combined. Cover and refrigerate until ready to serve. Once ready to serve, pour salad into a pretty bowl and top with the remaining chopped Roma tomato and 1/4 cup fresh garden herbs (such as basil and parsley) if you happen to have them.
Enjoy!
~Melissa
You may enjoy these related posts: