Print Friendly Version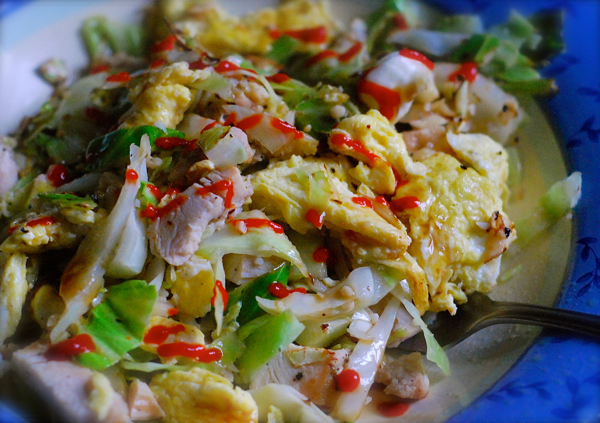 Here's one of my favorite ways to start the day, but it's good any time of day. This is delicious, high protein, healthy, and fast to prepare! I hope you like it as much as we do.
For one serving:
1 to 2 Tablespoon(s) olive oil OR sesame oil
2 large eggs, beaten with 1 Tablespoon water
1 to 2 cups shredded cabbage
a couple slices of onion (optional)
1 clove garlic, minced (optional)
1/2 cup fully cooked, cubed chicken
salt and freshly ground pepper, to taste
sauce suggestions: Sriracha, orange stir fry sauce, soy sauce, teriyaki
Heat half of the oil in a heavy skillet. Scramble eggs in it. Remove eggs to a large single serving bowl (I like to use pasta bowls for this.) Add rest of oil to the pan. Once hot, add the cabbage and onion (if using), stir fry over medium-high heat until slightly tender, brightly colored and hot. Add garlic and chicken (if cold) during last minute of cooking time. Stir well. Add to eggs in bowl. Top with your favorite sauces. Salt and pepper to taste.
Enjoy!
~Melissa
You may enjoy these related posts: