Print Friendly Version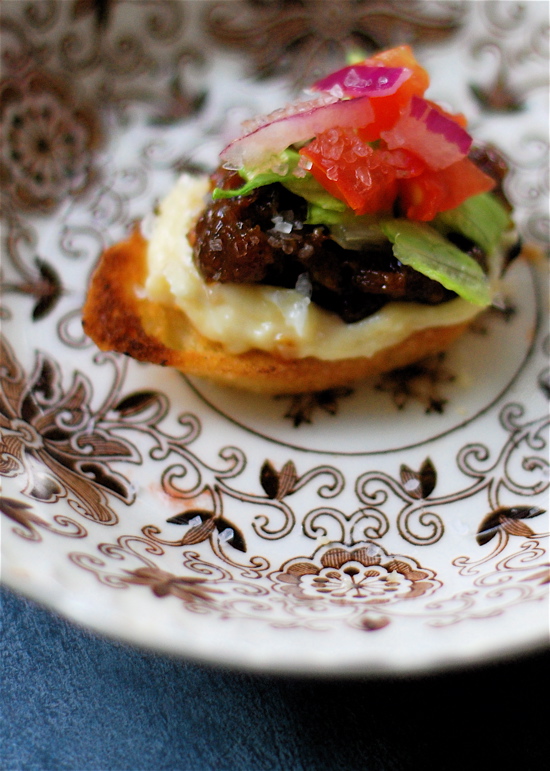 A bunch of people have been emailing me asking how to use bacon jam! 🙂 I made some suggestions on the original blog post, and I'm having so much fun incorporating it into new recipes. We made these yummy bacon jam, lettuce and tomato bruschetta for part of our dinner last night and they were SO amazing. The familiar flavors of a BLT…but snazzy enough to serve on a tray for formal afternoon tea or as a fancy party appetizer at your next cocktail gathering.
1/2 long baguette, sliced into 1/2 inch slices
1/3 cup parmesan-garlic spread (recipe below)
1/3 cup bacon jam, brought to room temperature
1/2 cup shredded lettuce
1/3 cup tomato, chopped fine
a few thin slices purple tomato
coarse sea salt
fresh ground pepper
~ Parmesan Garlic spread ~
1/2 cup real mayonnaise
1/3 cup grated Parmesan cheese
2 cloves of garlic, minced
2 Tablespoons extra virgin olive oil
dash of cayenne pepper
Heat the olive oil in a skillet and saute the minced garlic in the oil just until golden. Set aside to cool a bit.
In a small bowl, combine the mayonnaise, Parmesan and cooled garlic and oil. Add the salt, pepper and cayenne. Mix well. Refrigerate until ready to use.
Butter and toast the baguette slices in a hot skillet until golden. Set aside to cool a bit. Once cooled, spread with a little of the Parmesan spread, a little bacon jam, sprinkle with the lettuce shreds, tomato bits and a little thinly sliced purple onion. Sprinkle a few grains of coarse salt over the tops and serve!
~ ~ ~ Antique Store Treasure ~ ~ ~ The photo of the bruschetta above is taken in one of the four little Mason's  English ironstone brown transferware bowls I found while antiquing with my friend. The pattern is called "Bow Bells."
Enjoy!
~Melissa
You may enjoy these related posts: