Print Friendly Version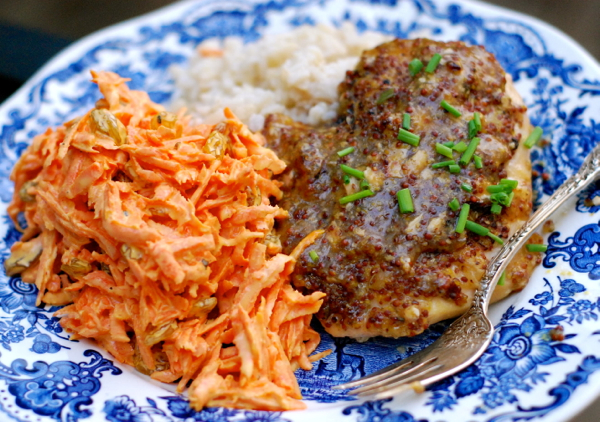 This baked chicken dish is one of my go-to, easy meals for busy days. It's wonderful served with brown rice and classic carrot salad or your favorite coleslaw. Easy peasy, healthy and so delicious!
~ preheat oven to 425 degrees F. ~
6 fresh or completely thawed boneless skinless chicken breasts
1/2 cup grainy Dijon mustard
1/4 cup pure maple syrup
1 Tablespoon dark, toasted sesame oil
2 Tablespoons champagne vinegar OR freshly squeezed lemon juice
2 teaspoons ponzu sauce OR lite soy sauce
1 Tablespoon fresh or dry oregano
1 teaspoon fresh or dry thyme leaves
sea salt and freshly ground black pepper, to taste
2 Tablespoons cornstarch OR tapioca starch
1/4 cup chicken stock or broth
fresh snipped chives for garnish
Place chicken breasts in a 9×13 glass baking dish. Mix the Dijon mustard, maple syrup, sesame oil, vinegar, ponzu, oregano and thyme together in a medium mixing bowl. Mix well using a wire whisk. Pour this mixture over the chicken. Bake, uncovered, in preheated oven for 35 to 45 minutes, or just until completely cooked through and juices run clear when cut into with a knife.
Transfer cooked chicken to a pretty serving platter and cover with heavy duty aluminum foil to keep warm.
In a small bowl, mix the cornstarch and stock. Stir with a small whisk or fork until completely combined. Whisk this mixture into the hot pan drippings until combined and thickened. (If the pan drippings aren't hot enough you may have to transfer everything to a sauce pan so the sauce can thicken properly.) Pour thickened sauce over chicken. Salt and pepper to taste. Garnish with the snipped chives.
Serve chicken breasts over hot brown rice.
Enjoy!
~Melissa
You may enjoy these related posts: