Print Friendly Version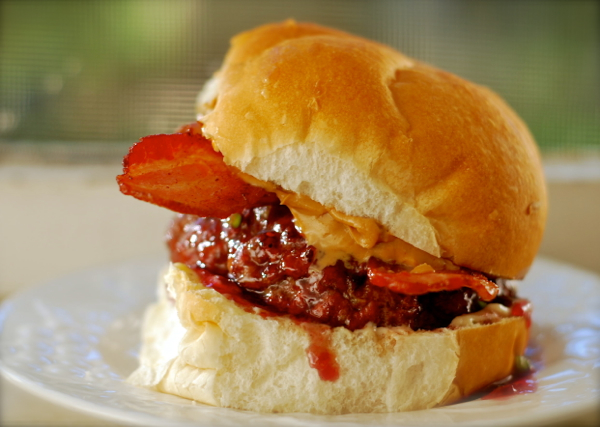 Peanut butter and jam on a burger? Is that what you said when you saw this? Well, I know it sounds kind of funny to combine the classic flavors of PB&J with bacon and a grilled burger, but once you take your first bite you'll be hooked. We've sampled similar burgers at a few local pubs and restaurants and decided to recreate this awesome masterpiece at home. I'm happy to report that we succeeded. This is going to knock your socks off.
The secret to a really GREAT grilled burger is to use ground chuck. If you opt for a leaner variety, throw in some applesauce (1/2 cup per pound of ground meat.)
for 4 burgers:
2 lb. ground chuck
1 medium sweet yellow onion, chopped
1 Tablespoon butter or olive oil
1 teaspoon freshly ground black pepper
8 pieces thick cut bacon, fried until crispy
4 Tablespoons real mayonnaise (we used Hellmann's)
4 fresh kaiser rolls, lightly toasted and buttered
1/2 cup raspberry or triple berry jam
1/2 cup (or more) creamy peanut butter (we used Jif Natural)
1 jalapeno pepper, stem and seeds removed, diced
1 teaspoon sriracha hot sauce
Heat 1 Tablespoon butter or oil in a skillet. Add the chopped onion and cook over medium heat until caramelized. Place onion and ground chuck in a large bowl. Add pepper. Using your hands mix everything together well. Form into 4 large (1/2 lb.) patties. Grill until done to your liking (we like ours medium rare.)
Mix the jam, jalapeno and sriracha together in a small bowl.
Split, toast and butter rolls. Spread mayonnaise on bottom half of rolls. Top with burgers, some of the jam, peanut butter and 2 pieces of bacon per burger. Place top halves of buns over burgers and serve.
Enjoy!
~Melissa
You may enjoy these related posts: