Print Friendly Version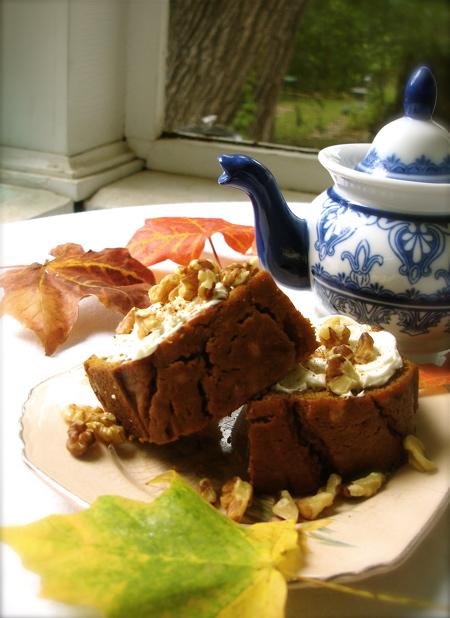 ~ cider pumpkin bread ~
This is a little something I dreamed up the other morning when I woke up to frost on the windows. I turned on the fire place for the first time this season and got to work in the kitchen.
The addition of real orchard apple cider and maple extract make this moist bread even more irresistible than usual. Jeff and Gracie slice it off the loaf in thick slabs to enjoy with their tea or as part of breakfast. I slathered whipped cream cheese on the slice above and sprinkled it with walnuts for Gracie's after school snack and she kept telling me how good it was.
~preheat oven to 350 degrees F.~
15 oz. canned, pure pumpkin
4 eggs
1 cup canola oil
2/3 cup tart, orchard cider
2 cups dark brown sugar
1 cup white sugar
3 and 1/2 cups flour
2 teaspoons baking soda
1 and 1/2 teaspoons salt
2 teaspoons cinnamon
1 teaspoon pumpkin pie spice
1 teaspoon nutmeg
1/2 teaspoon cloves
1/2 teaspoon ginger
1 teaspoon pure vanilla extract
1 teaspoon maple extract
Grease and flour two large loaf pans. In a large bowl, mix together pumpkin puree, eggs, oil, cider, sugars and extracts until well blended. In a separate bowl, whisk together the flour, baking soda, salt, cinnamon, pie spice, nutmeg, cloves, and ginger. Stir the dry ingredients into the pumpkin mixture until just blended. Pour into the prepared pans.
Bake for about 50-60 minutes in the preheated oven. Loaves are done when toothpick inserted in center comes out clean.
Enjoy!
Happy Teatime Tuesday!
~Melissa
You may enjoy these related posts: