Print Friendly Version

"Plants cry their gratitude for the sun in green joy."  ~Astrid Alauda
Another gorgeous autumn day! The sun didn't join us until later in the afternoon, which was okay because my friend Nancy and I were busy making magic in her kitchen. We talked and talked while we cleaned and cored bushels of apples… plunged them into Sprite (to keep them from turning brown…who knew?) bagged some of them to freeze,  turned some of them into applesauce, and turned some of them into this…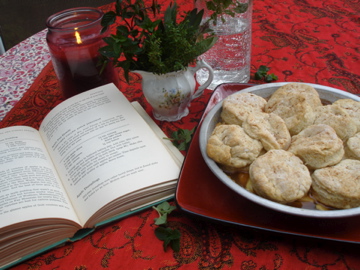 Apple Pandowdy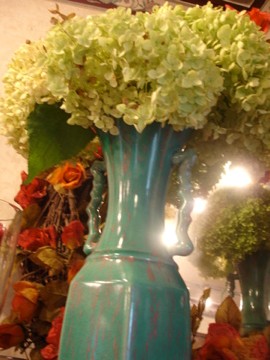 When we were done being domestic, we went for a walk in Nancy's garden.(Next time I visit I'm bringing my camera…this girl doesn't just have a garden, she has a GARDEN.) Every time I visit this enchanted place I learn something new about plants and flowers. Today she showed me a popcorn plant. When you rub the leaves between your fingers it smells exactly like burnt popcorn! She told me a funny phenomenon about this plant. She's never met a guy who can smell the popcorn smell. Just women. Weird huh?
We browsed around her herb garden and she told me to take whatever I could use. How fun! I picked some basil (for a pesto pasta I'm making with our sherry chicken tonight…) some oregano (for my homemade red sauce) sage, chocolate mint and lemon thyme (which I haven't decided how to use yet, but I'm sure I'll think of something 😉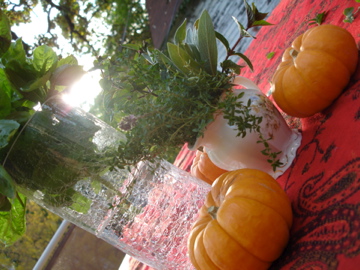 fresh herbs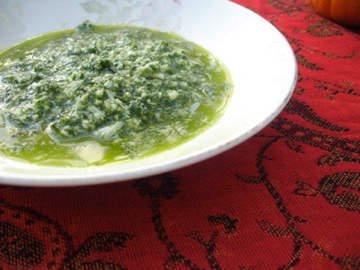 homemade pesto
She gave me hydrangeas for my dried autumn flower arrangements…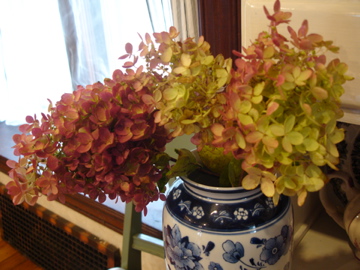 …and she sent me home with homemade creamed corn she made after cutting fresh corn off of the cob. What a sweet friend. I was very glad that I had decided to bring her family some of the 8 gallons of cider stew I had made a couple days ago. Well, not exactly 8 gallons, but you know what I mean. Have you ever made a pot of soup so big you never thought you'd see the bottom of the pot again? Yup. I overdid it.
To top off this incredible day…a monarch butterfly followed me into my house when I got home. I shooed it out onto the porch before I could take a picture because I was worried that our naughty kitten would think it was a snack. But what does it mean when a butterfly follows you into the house? Hmmm…
How did you spend this gorgeous day?
~Melissa
You may enjoy these related posts: