Print Friendly Version
On Monday, I had a tea date with my friend Clare at her gorgeous quilting studio (which she is still organizing, but she assures me I will be able to share pictures sometime in the near future.) I was excited to show her everything I've been working on…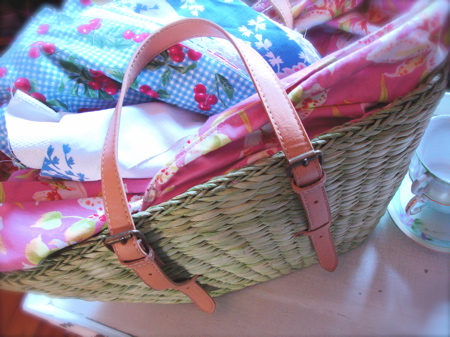 photographs by Melissa Placzek
So, I got up early, listened to Ian and Marjorie on 107.1, and made a batch of these scones to share.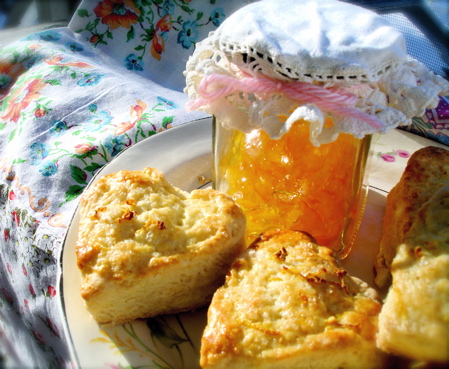 ~Church Hill Inn Scones~
makes 10-12 scones
2 cups all-purpose flour
1 and 1/2 Tablespoons baking powder
1/3 cup sugar
1/2 teaspoon salt
10 Tablespoons butter, cool
1/2 cup buttermilk
1/3 cup dried currants or raisins
Preheat oven to 425 degrees. Place grease-proof (not wax) parchment on a large baking sheet. Combine the flour, baking powder, sugar and salt with a wooden spoon. Flake in the butter. Add the buttermilk and mix until the ingredients are just incorporated. Gently fold in the currants.
Roll the dough out to about 1 and 1/2 inch thickness. Cut out scones using a 2″ biscuit cutter. Brush with buttermilk. Bake for about 15-20 minutes (until golden.) Cool on wire racks. When completely cool, store in an airtight container. Serve with Devonshire cream and your choice of fruit curd or preserves.
~a recipe for "Devonshire" Cream~
In a small bowl, using an electric hand mixer, combine:
1/2 cup heavy whipping cream
1/2 cup sour cream
2 Tablespoons powdered sugar
beat until cream thickens and consistency is smooth.
It seems like every time I make scones I start reminiscing. Thinking about tearooms where I've worked and visited (and the amazing, talented people I got to work with!), old mansions next to lakes that serve tea in their huge dining rooms, tea at the Ritz Carlton with Jeff, The Russian Tearoom, tea at the Davenport Hotel in Spokane Washington with my Robin, tea at the St. Paul Hotel (also with my Robin…Hi Robin!) tea served from silver tea services in romantic tower suites in B&Bs, tea at Naniboujou and black tea served in chunky pottery mugs on a balcony overlooking Lake Superior while staying at a resort on the North Shore with my little family… there are so many wonderful memories.
I got this recipe from the owner of The Church Hill Inn in Door County a couple of years ago when we were vacationing there the week of my birthday. This place is so cool! I loved the English country theme, the amazing breakfast spread every morning, and the fact that you could rent all seasons of Fawlty Towers at their front desk! I highly recommend this cozy inn the next time you're visiting the Door!
Anyhoo, these scones rival my scones on the goodness scale. They are very yummy. I didn't make these with currants… and I added a little lemon zest, otherwise I made them exactly the way the recipe card told me to. This hardly ever happens. I'm sort of a recipe rebel.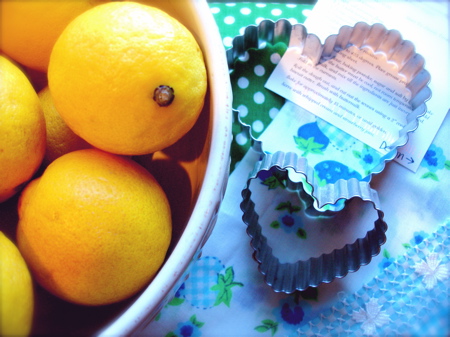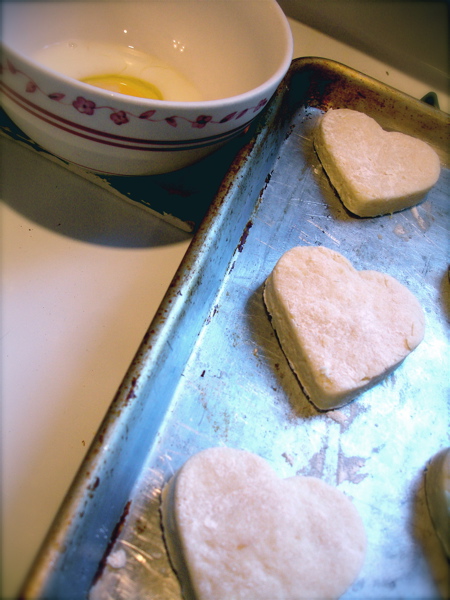 I packed a little basket…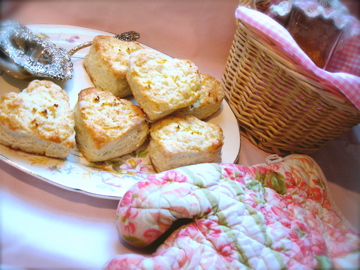 and realized half way to Clare's that I had forgotten my quilt bag.
Oh well. We had scones, tea and a lovely conversation.
XO,
Enjoy!
~Melissa
You may enjoy these related posts: