Print Friendly Version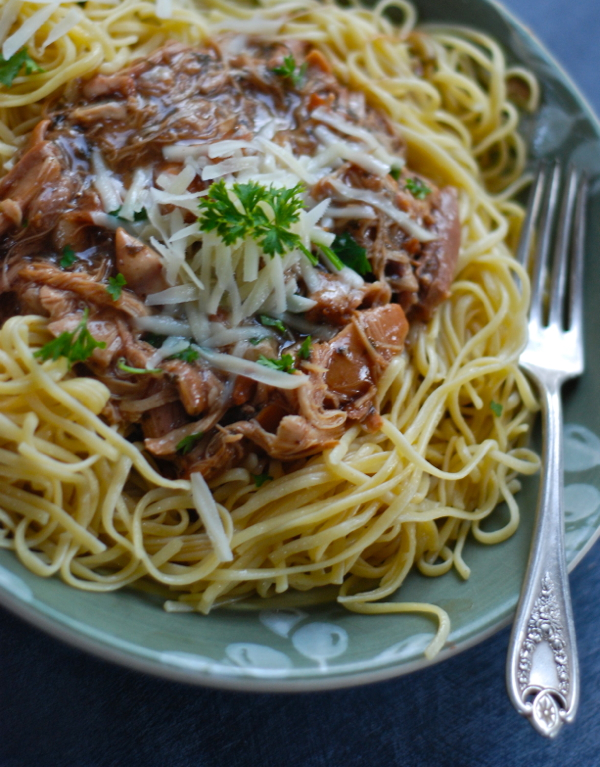 What a lovely beginning to the day. I woke up to the smell of rain. Jeff had opened the windows and doors to let the cool, fresh air rush through the house before I emerged from the bedroom. I got my tea and settled into "my" spot on the couch so I could wake up a little bit. Then I made a quick jaunt to the market to get bread and eggs so I could make my cucumber basil and curried egg salad tea sandwiches. The last time I made tea sammys I was preparing a little cooler for our road trip up north. They make awesome traveling food…along with a big thermos of iced tea.
So, today I made my sandwiches and then walked up to our friends' place to share a cuppa and conversation. Dave made a big brown betty pot of Puerh and we all hung out for a couple hours.
Now I have to get to work cleaning and organizing, and after that, more cooking and photo taking.
I did promise you a recipe, didn't I? Well, here it is. This is seriously one of the best things I've ever made in the Crock Pot. Even Jeff, the chicken marsala expert, approved.  The leftovers are phenomenal.
4 lb. boneless, skinless chicken thighs, fresh or completely thawed
2 (10 oz.) cans beef consomme
2 cups good quality marsala wine, divided
8 Tablespoons minute tapioca
1/4 cup sugar
1 Tablespoon tarragon
1 Tablespoon parsley
1 Tablespoon onion powder
1 teaspoon garlic powder
1 teaspoon salt
1/2 teaspoon white pepper
1 lb. linguini
4 Tablespoons butter
freshly grated Parmesan cheese (for topping)
chopped fresh parsley (for garnish)
Place the chicken thighs, beef consomme, 1 cup of the marsala wine, tapioca, sugar, tarragon, parsley, onion powder, garlic powder, salt and white pepper in a 6 to 7 quart Crock Pot/ Slow Cooker. Mix well and cover. Turn the Crock Pot to the "high" setting and cook for 5 hours.
When the 5 hours is up, cook the linguini according to package directions for "al dente" pasta. Drain very well, place in a large pasta bowl or mixing bowl and toss the noodles with a little olive oil to keep them from sticking together. Cover with heavy duty foil to keep warm until you're ready to plate your chicken marsala.
Break up the chicken into small pieces, using a wooden spoon. Stir in the remaining cup of Marsala wine, and the 4 Tablespoons of butter until melted. Mix well and adjust seasonings to suit your taste.
Plate the linguini in individual pasta serving bowls. Top with some of the chicken marsala, grated Parmesan, and chopped parsley.
Enjoy!
~Melissa
You may enjoy these related posts: