Print Friendly Version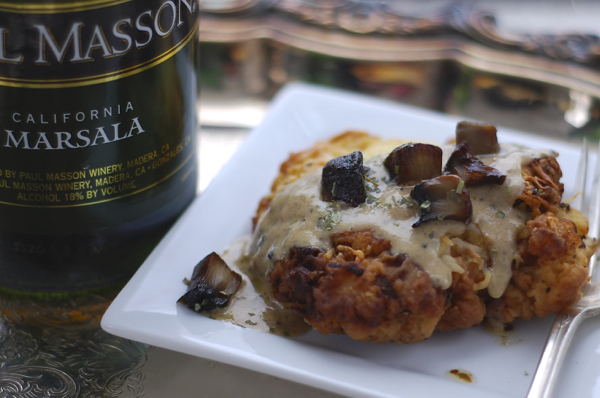 A Week of Valentine's Treats ~ Day FIVE ~ Jeff's Creamy Chicken Marsala
This is the first dish that Jeff ever made for me. One night, we decided to cook together, and while he made this I prepared a simple recipe for Fettuccine Alfredo. We were 22 years old when we started dating, after having been friends for six years. We met in high school and sat at the same lunch table. We joked around and admired each other from afar, but remained just close friends. After high school our paths went separate ways for a few years, but we stayed in contact.
I'm so glad that I ended up marrying this man! Someone that had been such a good friend to me. He's my soul mate, and I feel grateful that I know him. We've been married for over 17 years, and I still feel like a newlywed in some ways. We still make each other laugh, which I think is really important. If I were to give a couple advice on marriage, I would say to marry someone honest, loyal and funny 🙂
Anyway…back to the chicken… This dish plus my fettuccine, sort of became our "go-to" company dinner while we were dating. We made it whenever we entertained other couples, and when we became engaged, we served it to our parents for our engagement party. I remember being at my little apartment in White Bear Lake, setting the table and cleaning and getting everything ready for our guests to arrive. While the chicken marinated in the refrigerator, Jeff went out in the rain to pick about 50 wild sunflowers for me. We washed them and put them in vases all over the apartment. So romantic. I'll never forget it.
I couldn't think of a more romantic dinner to serve than this one. It's wonderfully decadent, rich and absolutely the best Chicken Marsala I've ever had…and laced with so many wonderful memories….. I hope you love this as much as we do.
serves 6
preheat oven to 250 degrees F.
6 medium, boneless skinless chicken breasts
4 cups Marsala wine
1 can Campbell's beef consumme
4 Tablespoons butter
1 and 1/2 teaspoons tarragon
1/8 teaspoon black pepper
1/8 teaspoon white pepper
1/4 teaspoon parsley
2 cups heavy whipping cream
flour for dredging
oil for frying
6 slices Mozzarella cheese
mushrooms fried in butter
Pierce chicken breasts all over, pound into paillard, pour the Marsala wine over, cover and marinate in the refrigerator overnight.
Remove 3 cups of the Marsala from the chicken and place it in a saucepan. Keep the chicken soaking in the remaining 1 cup of Marsala while you prepare the sauce.
Add the consumme, butter, tarragon, black pepper, white pepper and parsley. Simmer on low for about a half hour, watching closely and stirring often. Lower heat as necessary.
While the sauce in reducing, blot the chicken breasts, dredge in flour and fry in a heavy skillet until brown on both sides and cooked through. Place on an oven safe plate, place a slice of Mozzarella on each piece of chicken, and cover all with foil. Place in oven to keep warm while you finish the sauce. Fry the mushrooms in the butter until tender and slightly golden. Remove from heat and set aside.
After the sauce has been cooking for a half hour, add the 2 cups of cream. Simmer, stirring often with a wire whisk, until reduced and thickened somewhat (about 15 minutes longer.) Remove from heat.
Plate chicken, top with some of the sauce, some of the mushrooms, another sprinkle of tarragon and a little salt and pepper. Serve with your favorite pasta dish, a tossed green salad and a glass of your favorite wine.
Enjoy!
Happy Valentine's!
XO,
Melissa
You may enjoy these related posts: