Print Friendly Version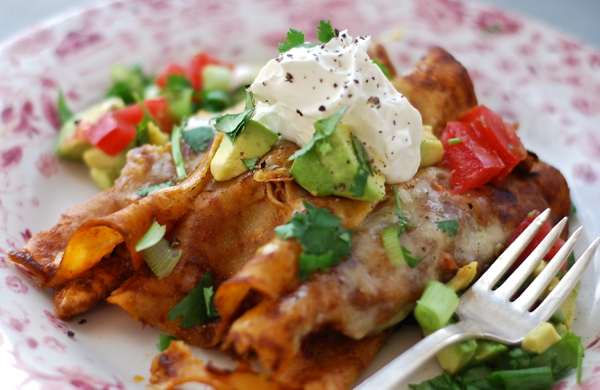 Last week at this time I was making up a big batch of my Mole Chicken Enchiladas and getting the house ready for company. We had my brothers down to dinner and they love love loved these!
I must admit that when I make mole I usually take a shortcut by starting with DONA MARIA jarred mole sauce. It's really good and super easy to prepare (plus I love to use the little glasses it comes in as European style wine glasses!). When I make mole from scratch, I like THIS RECIPE by Emeril. Feel free to use your favorite recipe for mole, but I'll be sharing my easy shortcut today.
for the chicken:
1  pre-made, large rotisserie chicken (found in your grocer's deli)
OR
1 fryer chicken, baked (skin on) until done
Remove skin and bones from chicken and reserve for another use. Shred chicken and place in a large mixing bowl. Cover to keep warm and moist.
for the sauce:
1 (8.25 oz) jar Dona Maria Mole Sauce
3 jars chicken broth
1 (19 oz.) can Enchilada sauce
2 teaspoons garlic powder
2 teaspoons chipotle powder
1 teaspoon cumin
2 teaspoons salt
Heat all slowly in a large, heavy bottomed soup pot, stirring often until smooth and heated through.  Reserve 2 1/2 Cups of the sauce for coating the tortillas. Mix the rest in with the shredded chicken. Stir well until thoroughly coated and evenly combined. Cover until ready to assemble enchiladas.
to assemble enchiladas:
about 24 small, soft corn tortillas
1 large onion, chopped fine
3 Tablespoons olive oil
21 to 28 oz. shredded cheddar jack cheese
sour cream
chopped avocado
chopped tomato
chopped green onion
chopped, fresh cilantro
hot sauce
Fry the finely chopped onion in the oil just until tender and transparent. Add to the chicken mixture.
Lightly grease 2 (9 x 13 glass cake pans) with a little olive oil. Heat tortillas (about 6 at a time) in paper towels in the microwave (for about 30 seconds, or just until warm.) Add a Tablespoon of olive oil to the reserved mole sauce. Working quickly, dip each tortilla in the reserved mole sauce, or rub each side liberally with some of the sauce (if you don't get the tortillas moist enough they will crack and break apart.). Place about 1/4 cup of the chicken mixture and 3 Tablespoons shredded cheese in each tortilla. Roll up and place, seam side down, in cake pans until you've used all of the chicken filling. Sprinkle the remainder of the cheese evenly over enchiladas. Cover pans with foil and place in a preheated, 375 degree F. oven for 30 minutes (or until completely heated through and the cheese is melty.)
Garmish with extra mole sauce, sour cream, chopped avocado, chopped tomato, chopped green onion, chopped cilantro and your favorite hot sauce. Salt and pepper to taste. Serve.
Enjoy!
~Melissa
PS …HERE are some other fabulous, easy recipes using rotisserie chicken!
You may enjoy these related posts: