Print Friendly Version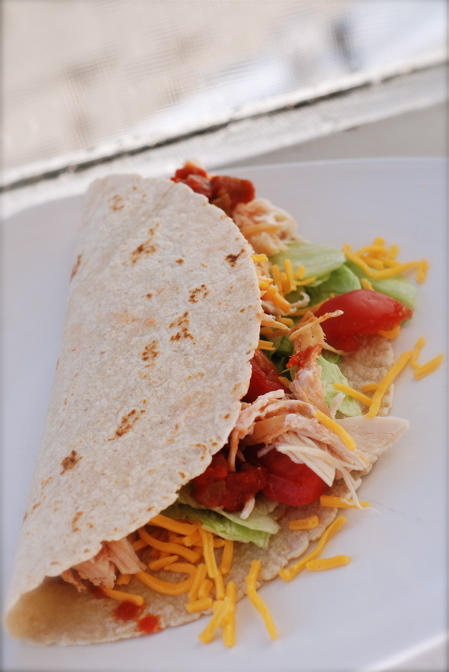 ~ five minute rotisserie chicken tacos ~
Busy day? Here's the perfect recipe for when you're running low on time and you just want to get dinner on the table. The little "trick up my sleeve" is rotisserie chicken. It's an awesome way to have a warm, healthy meal in minutes… without the hassle. I use it in tortilla soup, chicken divine, chicken cordeon bleu croissants, chicken a la king with buttermilk biscuits, in place of duck in these quesadillas on this yummy lunch salad, mole chicken enchiladas, in white chili…and, our favorite, these delicious, easy tacos. I listed ingredients for making these as healthy as possible. Feel free to substitute your favorite ingredients in place of mine if you like. Don't forget to save the excess meat and bones for homemade chicken stock!
You'll need:
whole grain wraps or whole wheat tortillas (large)
pre-shredded sharp cheddar cheese
chopped avocado or guacamole
pre-cooked, grocery store deli, rotisserie chicken
organic tomatoes
organic lettuce
greek yogurt
Sriracha hot sauce
Shred up some of the warm rotisserie chicken. Place tortillas on plates and pile in as many of the ingredients as you like! Greek yogurt is a wonderful substitute for sour cream.
Enjoy!
~Melissa
You may enjoy these related posts: