Print Friendly Version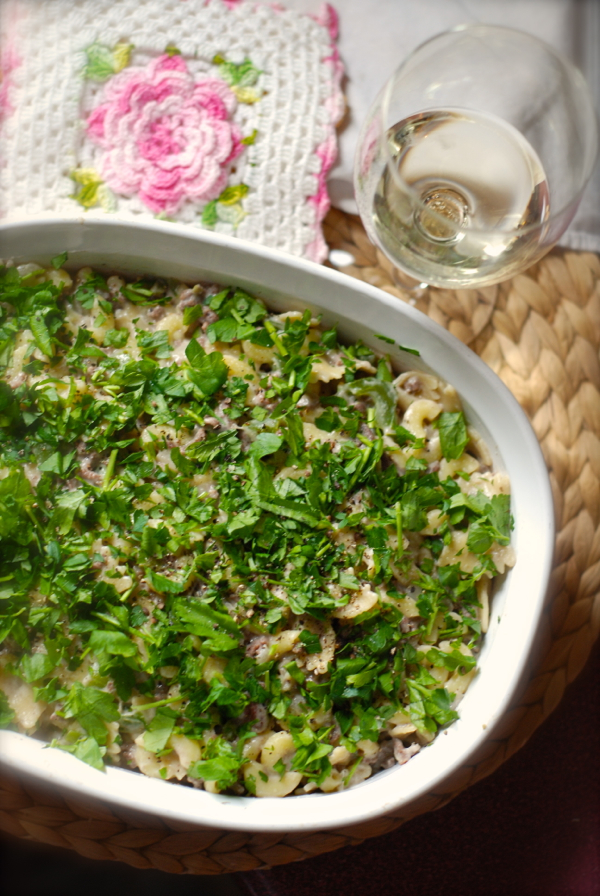 Oh my goodness… We got more snow! I know it won't be as exciting once February rolls around, but right now it's pretty cool. I'm having fun creating comfort food dishes in my kitchen. I've made a bunch of new stuff, which has turned out amazing, but sometimes I just like to make tried and true dishes that my mom and grandma taught me how to make. Hurry Up Dinner is a great example. I'm sure you've had some form of this casserole before. Do you call casseroles "casseroles" or "hotdish" where you come from? We mainly call them hotdishes here in Minnesota and I've actually heard that the term "hotdish" was coined by a Minnesotan, so that makes sense. I've also had people that weren't from the Midwest look at me like I was from a different planet when I called a casserole a hotdish. There's a whole song dedicated to hot dish in the hilarious musical called "How to Talk Minnesotan." The song is called Hotdish Hallelujah, which cracks me up! I couldn't find a good clip of the song online, but I'll keep my eyes open and add it to this post as soon as one becomes available.
Anyhoo… without further ado, I give you… Hurry Up Dinner. It really doesn't get any easier than this. 😉
~ preheat oven to 350 degrees F. ~
3 cups cooked white or brown rice OR cooked macaroni
1 lb. well-browned ground beef, crumbled
1 large green bell pepper, chopped, sauteed
1 medium onion, chopped, sauteed
1 (10.75 oz.) can cream of mushroom soup
1 teaspoon garlic powder
fresh or dried parsley for sprinkling over top of hot dish
soy sauce and freshly ground black pepper, for seasoning
Mix everything, except for the parsley, soy sauce and pepper, together in a large mixing bowl until evenly combined. Transfer to a casserole dish, smooth the top with a spoon or rubber spatula, and sprinkle parsley over the top. Bake for 30 to 40 minutes, or until very hot all the way through and bubbling around the edges. Spoon into individual serving bowls and serve. Pass the soy sauce and pepper so everyone can season their own.
Enjoy,
~Melissa
You may enjoy these related posts: