Print Friendly Version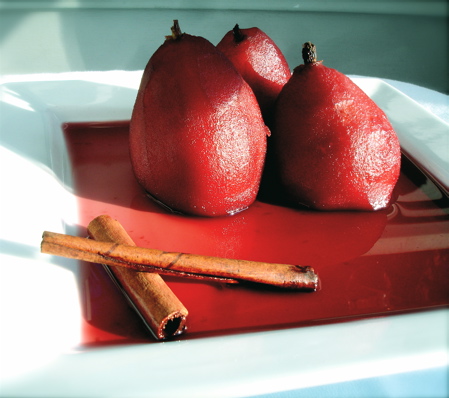 photograph by Melissa Placzek
This two step poached pear recipe was adapted from the beautiful cookbook, Van Gogh's Table at the Auberge Ravoux-Recipes from the Artist's Last Home and Paintings of Cafe Life. Recreating recipes that were the favorites of Van Gogh makes me feel connected to him somehow. Other recipes we've enjoyed from this book include: Rosemary Roast Chicken with Garlic Confit & Potatoes, Sauteed Potatoes & Smoked Slab Bacon, Chocolate Mousse Sabayon, Warm Tart Tatin with Creme Fraiche, Scrambled Eggs & Asparagus, French Style Green Peas, Cherry Clafouti, Honey Madelines, and yesterday these delicious, cinnamon-vanilla essence poached pears in red wine. So many pretty recipes.
~Red- Wine Poached Pears with Cinnamon & Vanilla~
6 medium Bartlett or d'Anjou pears
magnum of red wine
2 Tablespoons creme de cassis (blackcurrant liqueur)
1 vanilla bean, split and scraped
2 cinnamon sticks
2 star anise
2 cups sugar
Peel pears and then core them, removing core through blossom end. Place all ingredients, except the sugar, in a deep glass bowl so pears are completely submerged in the wine. Cover and refrigerate over night.
Using a slotted spoon, gently transfer pears to a large cooking pot. Pour in the wine mixture. Add the sugar and stir gently. Bring to a slow boil and simmer until pears are tender but still firm when pierced with a fork. The cooking time could take anywhere from 15 minutes to an hour, depending on the ripeness of the pears. Spoon a little wine mixture over the pears a few times while the fruit cooks.
Carefully transfer pears to a dish and allow to cool completely. Serve chilled or at room temperature with 1 to 2 Tablespoons of the wine syrup spooned over.
Enjoy!
~Melissa
You may enjoy these related posts: