Print Friendly Version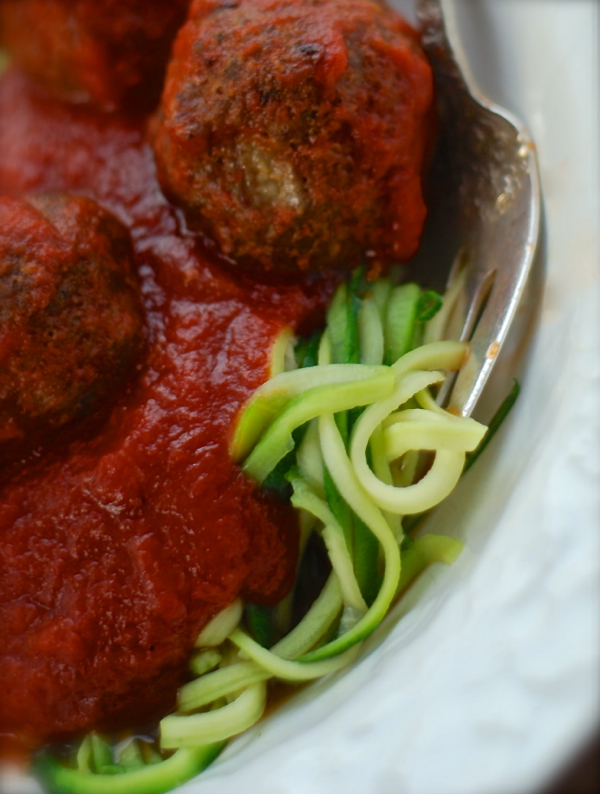 Jeff surprised me with a Veggetti! What's a Veggetti, you may ask? It's this nifty tool for turning summer squash and zucchini (and other veggies) into noodles! You can make thick or thin noodles and they truly turn out awesome. There are other vegetable noodle makers out there, but what I really like about the Veggetti is that it's so small you can put it in a kitchen drawer. That's a nice plus when you have a limited amount of kitchen storage. I have a big kitchen and I still feel like I have limited storage.
Last night we made up a big batch of zucchini pasta and sauteed it in olive oil and garlic for 5 minutes. There are instructions in the little booklet that comes with the pasta maker that tell you how to boil or microwave the noodles too. We opted to saute. When the spaghetti was tender we transferred it to single serving pasta bowls, topped it with THIS spaghetti sauce, and THESE meatballs and it was sooooo good!
I'm not selling these little gadgets, nor am I being paid to say that I like them. I just genuinely love this product and wanted to share. This is really great news for people who are watching their carbs, or people that just can't eat traditional pasta for various reasons. I hope you enjoy making vegetable spaghetti as much as I do. I can't wait to make linguini and clams, chicken alfredo spaghetti and primavera pasta. Oh! Before I forget, you can make other things with the Veggetti besides noodles… zucchini or carrot salad, hashbrowns, potato pancakes and pretty vegetable garnishes are some other possibilites! Fun, huh? 😉
Enjoy!
XOXO,
~Melissa
You may enjoy these related posts: