Print Friendly Version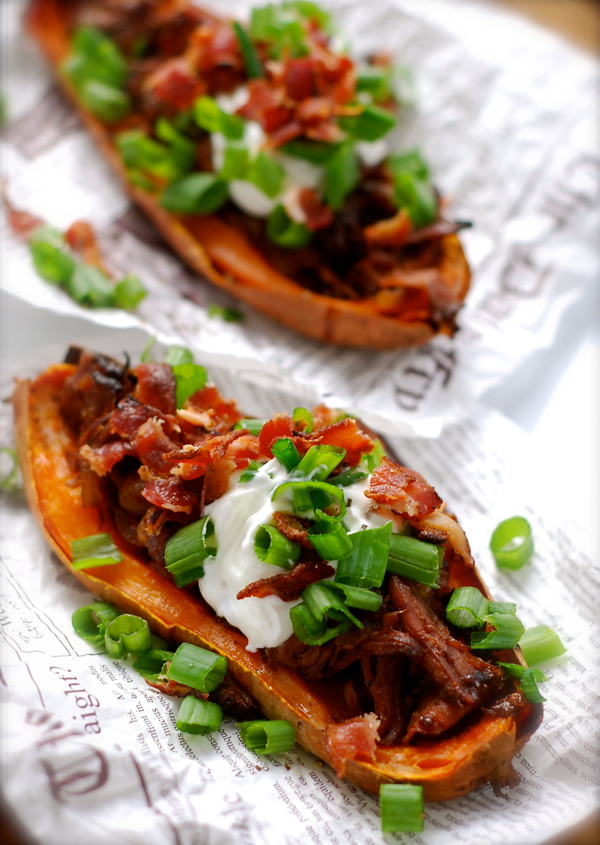 We've been happily and successfully eating Paleo for a couple weeks now, and I have to say I just love it! Once in awhile I stray and have a cucumber sandwich on soft white bread, or I take a bite of a skillet cookie that has just come out of the oven (because come ON, who can resist just a bite?) But for the most part I'm not even craving unhealthy food anymore, which makes me very, very happy. And can I tell you how much energy I have? I feel 20 years younger! Not kidding.
Enough about me and my boring diet talk. How have you been? 🙂
Here's a recipe that can be modified for the Paleo lifestyle. There are two camps of Paleo when it comes to eating organic, greek yogurt. One camp says, "NO way! It's dairy!" and the other camp says, "I'm eating organic greek yogurt because it's good for me." I am a member of the second camp*. If you don't agree, then just omit it and make some cashew "sour cream." Either way, they're totally awesome. Oh! And I happen to think that potato skins are finger food. They actually taste better when you pick them up and eat them rather than trying to saw away at them with a knife and fork. Do a taste test and see if you agree.
I made my BBQ beef in my Crock Pot and then just put these together a half hour before dinner rolled around. It made these super easy to prepare.
for 8 sweet potato skins (serves 4 hungry people) :
4 medium sweet potatoes or yams
2 to 3 cups shredded BBQ Beef (recipe below)
8 slices of good quality, thick sliced bacon, fried until crispy
2 cups shredded sharp cheddar cheese (omit for Paleo option)
plain, organic greek yogurt *
chives or scallion tops, chopped
salt and pepper to taste
Sriracha hot sauce (optional)
for the slow cooker BBQ beef:
2 to 3 lb. chuck roast
2 Tablespoons coconut oil
1/4 cup Tessamae's Paleo BBQ Sauce (or your favorite)
1/4 cup sherry vinegar OR balsamic vinegar
salt and pepper
2 medium onions, halved and sliced thin
Heat coconut oil in a large skillet. Once hot, sear roast on both sides. Place roast in Crock Pot. Top with the BBQ sauce, vinegar, salt and pepper and sliced onions. Cover and cook on LOW for 6 to 8 hours (or on HIGH for 3 to 4 hours.) When beef is falling apart-tender, remove it from the juices in the Crock Pot, shred it and add desired amount of BBQ sauce. Set aside.
for the sweet potato skins:
Wash sweet potatoes. Don't peel. Poke little holes into them to allow hot air to escape while they bake. Bake them in a 400 degree F. oven for 40 to 50 minutes (or until soft.) Allow them to cool so you can handle them without burning yourself. Cut potatoes in half, lengthwise. Scoop out most of the flesh, leaving a 1/4 inch "wall." Drizzle each skin with a little olive oil and bake for 15 minutes. Remove from oven and stuff the skins with some of the onions from the Crock Pot and the BBQ Beef. Turn oven down to 375 degrees F. Return stuffed skins to oven and bake an additional 15 minutes (add the cheddar cheese, if using, during the last 5 minutes that the skins are in the oven.)
Top each skin with a dollop of yogurt, a piece of fried, crumbled bacon, salt & pepper, chives/scallions, and a drizzle of Sriracha hot sauce.
Enjoy!
~Melissa
You may enjoy these related posts: