Print Friendly Version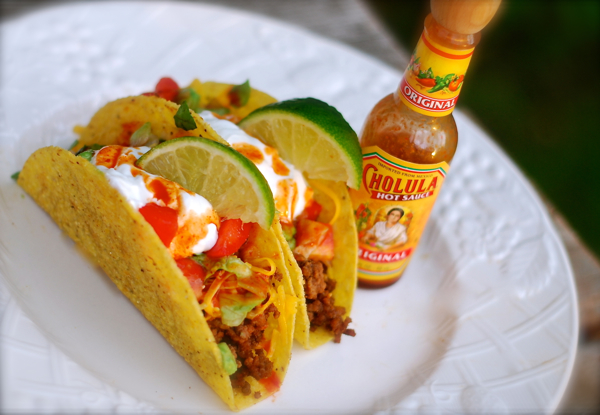 "It's the crunchy corn shell with the good meat, just ground beef in there. It's all about the layering. The meats gotta be hot, and the cheese goes on first so that it melts. And then you're gonna get in there with a little bit of tomato and lettuce but not too much cause it's not a salad, it's a taco, and then you're gonna throw some avocado on top and some sour cream and then a bunch of Cholula. I don't know if you know what Cholula hot sauce is but it's the best. Throw a bunch of Cholula on there, maybe squeeze a squeeze of lime on top…" ~Matt Damon describing the perfect taco
When I first saw this quote I just knew I had to make Matt Damon's favorite tacos! That's exactly what we did this evening. Thanks for an awesome recipe, Matt! The tacos were amazing!
hard shell taco shells, warmed until crispy
hot ground beef
taco seasoning
shredded cheddar cheese
diced tomato
shredded iceberg lettuce
diced, ripe avocado
sour cream
Cholula hot sauce
lime wedges
Cook meat in a heavy skillet until completely done. Drain. Add taco seasoning, to taste. Cover to keep hot.
Heat hard shell taco shells in oven at 425 degrees F. for 2 minutes. Layer according to Matt's specifications: hot meat first, then cheese, tomato, lettuce, avocado, sour cream, lots of Cholula hot sauce, and a squeeze of lime.
Enjoy!
~Melissa
You may enjoy these related posts: