Print Friendly Version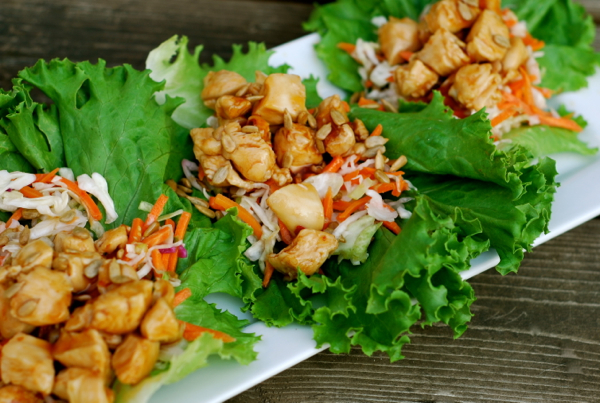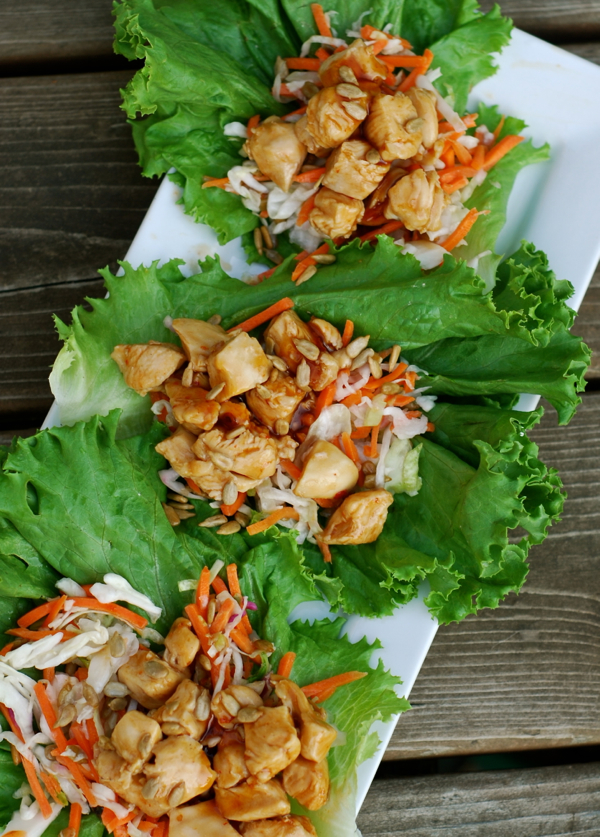 I've been making these refreshing little lettuce wraps as one of my go-to summer entrees ever since first trying them at Big Bowl Restaurant and P.F. Chang's. I developed "copycat" recipes for each, and everyone just loves them!
If you like General Tso's chicken, you're going to love this! Feel free to use your favorite pre-made sauce for this recipe, or make it from scratch according to the directions at the bottom of this post. We sometimes use Trader Joe's General Tsao's Sauce when we're in a hurry to get dinner on the table. I'm not sure what's up with their alternate spelling for the sauce, but it tastes amazing.
for 4 people (12 wraps)
4 boneless skinless chicken breasts, cut into bite size cubes
1/4 cup + 2 Tablespoons dark sesame oil (divided)
1 cup homemade or bottled General Tso's Sauce (recipe below)
3 cups shredded cabbage
3 cups shredded carrots
1/4 cup rice wine vinegar
2 Tablespoons honey
1/4 cup sunflower seeds
12 big lettuce leaves, washed and dried well
sriracha hot sauce, to taste
Heat 2 Tablespoons of the sesame oil in a large, heavy skillet. Add cubed chicken to skillet. Saute until chicken is completely cooked and hot all the way through. Toss with the General Tso's sauce. Remove from heat, cover, and set aside.
In a large bowl, combine the cabbage, carrots, the rest of the sesame oil, vinegar, honey, and sunflowers seeds. Mix well. Divide cooked chicken among the prepared lettuce leaves, 3 on each of 4 plates. Top with slaw and hot sauce, if you wish. These can get a little messy, but they're worth it! Just wrap them up and enjoy!
for the homemade General Tso's stir fry sauce:
6 Tablespoons lite soy sauce
1/4 cup rice wine vinegar
6 Tablespoon low sodium chicken stock
1/2 cup brown sugar
2 Tablespoons dark sesame oil
2 Tablespoons cornstarch
1/4 teaspoon to 1/2 teaspoon cayenne pepper
Whisk all above ingredients together in a small bowl. Set aside.
In a skillet, heat 1 Tablespoon peanut oil. Once hot, add 2 large minced cloves of garlic, and 2 Tablespoons fresh grated ginger. Cook for 3 minutes. Add the soy sauce mixture to the skillet and stir constantly until mixture boils and thickens (1 to 2 minutes.) Use as directed above.
Enjoy!
~Melissa
You may enjoy these related posts: