Print Friendly Version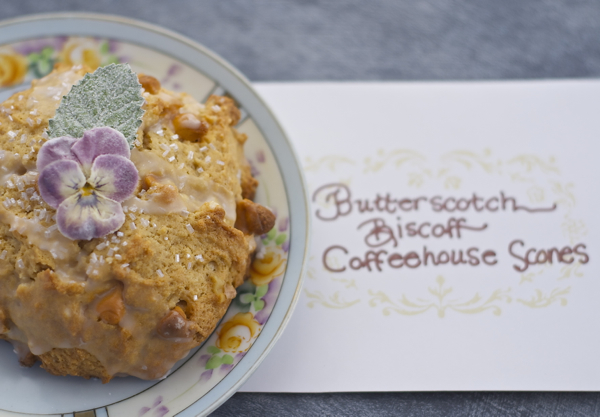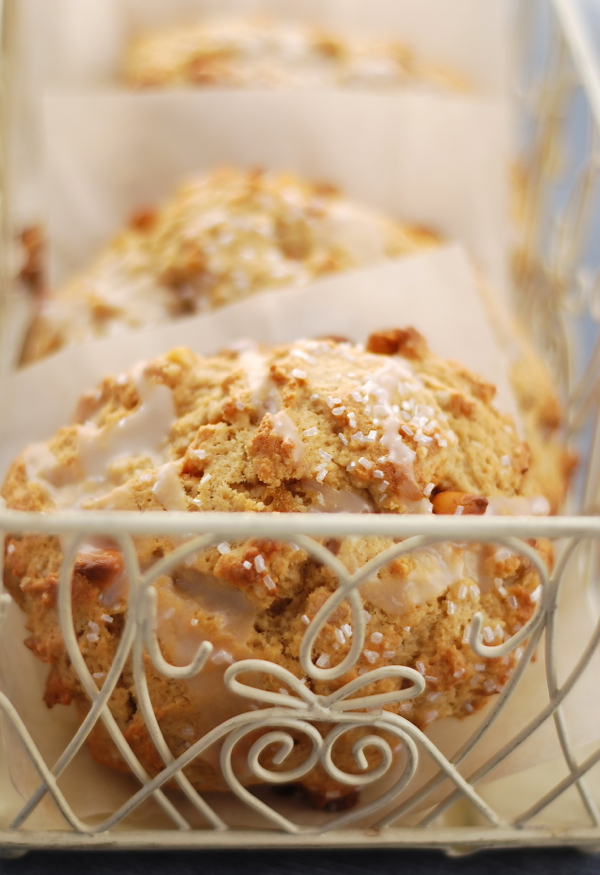 I took a little break today so I could make a special scone recipe for teatime. Jeff and Gracie recently discovered their love for Biscoff spread. They've been scooping it out of the jar and eating it by the spoonful…melting it and pouring it over ice cream… I had to hide the rest of the jar so I could use it in a recipe. I can't wait to surprise Gracie with one of these scones for her after school snack. They turned out soooo good! I call them coffeehouse scones because they're more rustic than the scones I make using a biscuit cutter…they're sweeter and more moist…and glazed just like the ones I get at our local coffee shop. I had one with tea, but they'd be great with a rich cup of French press!
4 cups all-purpose flour
1 cup brown sugar
4 teaspoons baking powder
1 teaspoon salt
12 Tablespoons real butter, cool
2/3 cup Biscoff spread, warmed until just melted
1 cup buttermilk
2 large eggs
1 cup butterscotch chips
3/4 cup chopped walnuts (optional)
bakers glaze, finishing sugar and crystallized flowers for garnish (optional)
In a large mixing bowl, combine the flour, sugar, baking powder and salt until evenly incorporated. Cut in cool butter with a pastry mixer, or using your fingers. In a medium bowl, combine the melted Biscoff, buttermilk and eggs. Pour wet ingredients into dry ingredients and mix until just combined. Fold in butterscotch chips and nuts.
Lightly spray a large baking sheet with cooking spray (or lightly grease with oil.) Drop 1/2 cup mounds onto baking sheet using a measuring cup. Space them a couple inches apart. Sprinkle with a little finishing sugar. This recipe will make approximately 10 to 12 large scones. I baked mine in two batches.
Bake at 425 degrees F. for 13-15 minutes, or until just set and starting to turn golden. When done, transfer to cooling racks to cool completely before glazing and decorating with crystallized flowers. Store in an air-tight container for up to five days…freeze any that won't be eaten within that amount of time. They freeze beautifully, and can be defrosted and reheated in the microwave.
Enjoy!
~Melissa
You may enjoy these related posts: