Print Friendly Version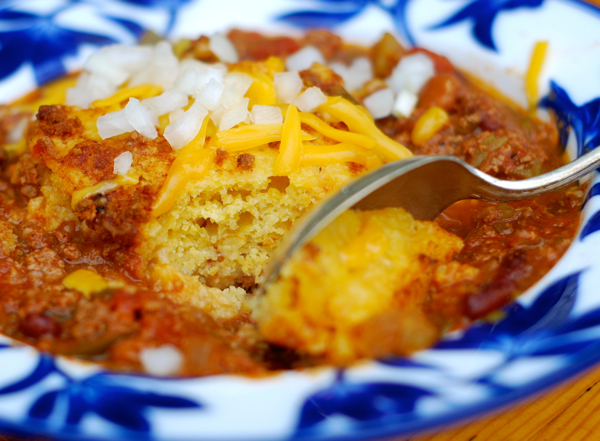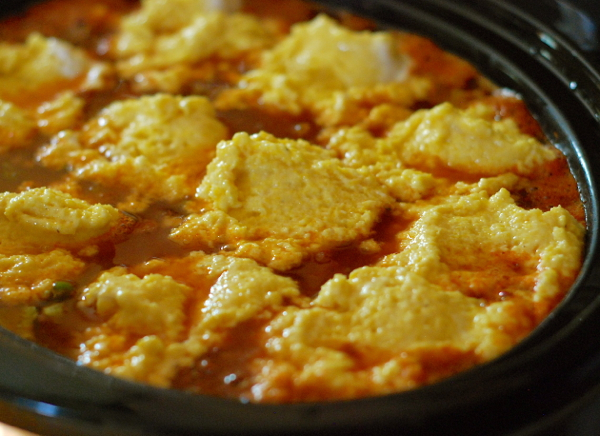 Mmmmm! Comfort food. We love it this time of year when it starts to get rainy and chilly outside. There's nothing like coming home to a cozy meal.
Here's a versatile recipe that you can use to top virtually any soup, stew or chili. I personally think it's the perfect accompaniment to a spicy chili, and that's how it's pictured above.
This is so easy. Just whip up a batch of this dumpling batter one hour before your chili or stew is done cooking and drop generous dollops into the hot broth. Cover and allow to cook, undisturbed, for that last hour. So yummy!
1 cup all purpose flour
1 cup yellow cornmeal
2 teaspoons baking powder
1/2 teaspoon salt
3 Tablespoons butter, melted
2 Tablespoons sugar
2 large eggs, lightly beaten
1/4 cup milk
1/4 cup sour cream
1 cup shredded cheddar cheese (optional)
Mix dry ingredients together in a medium mixing bowl. In a separate bowl, combine the wet ingredients. Add wet ingredients to dry ingredients and mix just until combined. Gently fold in cheese if you want your dumplings to be cheesy. Using a large serving spoon, scoop dumpling batter onto the hot chili or stew in 1/4 cup dollops (the measurement doesn't have to be exact.) Cover slow cooker, set to the HIGH setting, and allow dumplings to cook for an hour. You'll want to do this the last hour that the chili has to cook so everything is done at the same time. Dumplings are done when they're set and no longer wet on top.
Enjoy!
~Melissa
You may enjoy these related posts: