Print Friendly Version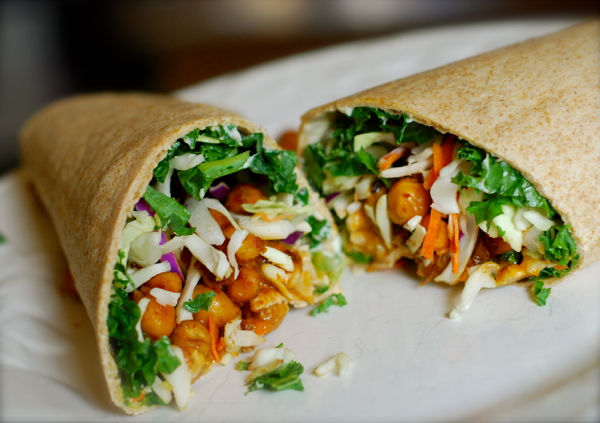 Smoky, hearty, filling, delicious, and fast! The perfect thing to make for lunch or dinner. These big wraps are one of my favorite things to eat. I top them with spicy, creamy peanut sauce which makes them truly irresistible! This is a vegan recipe, but it doesn't have to be. Sub cooked chicken, beef, or pork for the chickpeas if you don't like chickpeas. Just make sure to chop it up good for easier wrapping.
Yield: 4 big wraps
for the chickpea filling:
1 Tablespoon olive oil
2 (15 oz.) cans chickpeas, rinsed and drained very well
2 Tablespoons fresh lemon or lime juice
1 teaspoon molasses or pure maple syrup
2 teaspoons light soy sauce, shoyu, or tamari
1 Tablespoon smoked paprika
2 teaspoons cumin
1 teaspoon garlic powder
1 teaspoon onion powder
1/4 teaspoon chipotle powder
Heat oil in large skillet over medium-high heat. Add chickpeas and spices. Stir to combine. Saute until golden. They'll start to make popping sounds. (Approximately 5 minutes.) Once they pop, add lemon juice, molasses, and soy sauce. Stir for 1 minute. Turn off heat.
for the peanut sauce:
1/4 cup creamy peanut butter
2 Tablespoons of your favorite, sweet/smoky BBQ sauce (I love Heinz Hawaiian)
2 to 4 Tablespoons warm water
1 teaspoon dark sesame seed oil
1 Tablespoon hot sauce
1 large garlic clove, minced
1/2 teaspoon curry powder (optional)
salt and pepper, to taste
Mix all in a bowl, using a wire whisk, until smooth. Use less or more water, depending on how thick you want your peanut sauce.
putting the wrap together:
Place 4 whole grain tortillas (burrito-size) on 4 plates. Top each with a layer of your favorite coleslaw, some fresh chopped kale, a little shredded carrot, julienne cucumber (seeds removed), and a sprinkling of freshly chopped cilantro. Divide chickpea mixture between the 4 wraps. Top with some of the peanut sauce or put the peanut sauce on the side in a little cup (for dipping.)
Wrap each, rolling tightly, and cut in half on the diagonal. Secure each half with a wooden skewer or toothpick.
Enjoy!
~Melissa
You may enjoy these related posts: