Print Friendly Version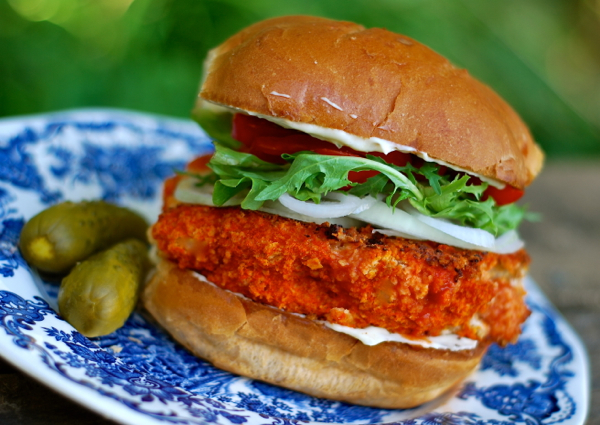 There's crunchy and then there's SUPER crunchy. This sandwich is the latter. Unbelievably good, and actually pretty easy to prepare. You'll need cooking parchment or a silpat mat for lining your baking sheet. Don't skip this step of your cauliflower will stick to the pan and you'll be mad.
This recipe is adapted from one I found in the always fabulous Vegan Comfort Classics by Lauren Toyota.
You can make cauli "wings" with the leftover cauliflower florets and coat them in BBQ or a sweet mustard sauce made from agave and Dijon… The possibilities are endless.
Ohmygosh. Are you ready for this awesome sandwich?
for the cauliflower "steaks" ~
(4 huge sandwiches)
2 heads cauliflower
1 and 1/2 cups all purpose flour
4 teaspoons garlic powder
4 teaspoons onion powder
1 teaspoon cumin
2 teaspoons smoked paprika
1/2 teaspoon freshly ground black pepper
3/4 cup unsweetened, plain almond milk
3/4 cup water
3 cups panko-style bread crumbs
5 Tablespoons vegan butter
1 and 1/2 cups Frank's buffalo-style hot sauce
Preheat oven to 450 degrees F. Line large baking sheet with parchment or Silpat mat.
Carefully remove leaves from cauliflower heads, keeping all florets intact. Slice each head, starting from the top. You'll get 4 thick slices, or "steaks," from each head. Reserve remaining florets for another purpose.
In a large mixing bowl, combine: flour, garlic powder, onion powder, cumin, smoked paprika, pepper, almond milk, and water. Stir until mixed well. If you need to add more liquid, do so in 1 Tablespoon increments. Your batter should be thin enough to spread all over the steaks, but not super liquidy. You don't want it to pool around the steaks on the baking sheet.
Place panko in another large mixing bowl. Completely coat the steaks in the batter, and then dredge them in the panko, covering completely, and then place the steaks on prepared baking sheet.
Bake for 25 minutes, or until crispy, flipping steaks half way through baking time.
Just before they finish baking, melt 4 Tablespoons of the vegan butter and mix it with the hot sauce. Coat steaks with the buffalo sauce on all sides. Reserve excess sauce.
Place steaks back on baking sheet and bake an additional 25 minutes, once again flipping half way through baking time.
To assemble sandwiches:
Cut rolls in half and toast the cut sides in the remaining 1 Tablespoon of butter in a hot skillet. (You may need more butter for this.) Then spread your favorite vegan ranch dressing on the cut sides of each roll. (We love Just Ranch.)
Place a buffalo cauliflower steak on the roll bottoms, followed by a little more buffalo sauce, thinly sliced onion, lettuce, tomato, and the roll tops. Serve with pickles and your favorite chips or fries.
Enjoy!
~Melissa
You may enjoy these related posts: