Print Friendly Version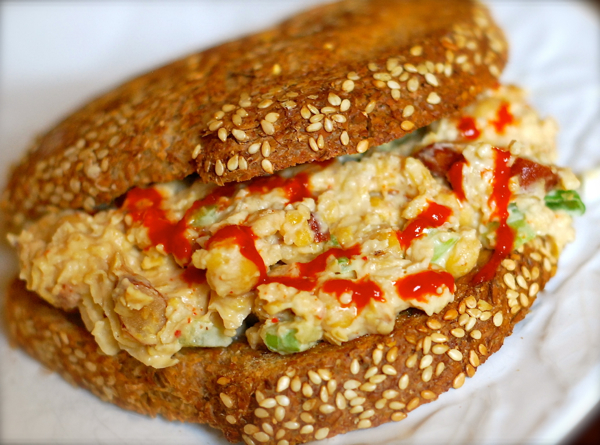 Chickpeas are quickly becoming a staple in our home, and this quick salad is one of our favorite ways to prepare them. It's smoky, crunchy, creamy, and wonderful! Use it as a topping for a green salad and you won't need salad dressing, or use it as a filling for sandwiches or lettuce wraps! Delicious!
for two sandwiches:
1 (15 oz.) can chickpeas, rinsed and drained well
1/3 to 1/2 cup mayonnaise (we use Just Mayo)
1 garlic clove, minced
1/3 cup smoked almonds, coarsely chopped
1 to 2 teaspoons whole grain Dijon mustard
1/2 teaspoon agave syrup
2 green onions, sliced (including the green tops)
1/4 cup chopped celery
1 teaspoon dried tarragon or oregano
1/2 teaspoon smoked paprika
salt, to taste
freshly ground black pepper, to taste
Place drained chickpeas in a medium mixing bowl. Mash about half of them using a fork or potato masher. Add the rest of the ingredients and mix well.
Pile high on your favorite sandwich bread, and top with a little hot sauce, if you wish.
Enjoy!
~Melissa
You may enjoy these related posts: