Print Friendly Version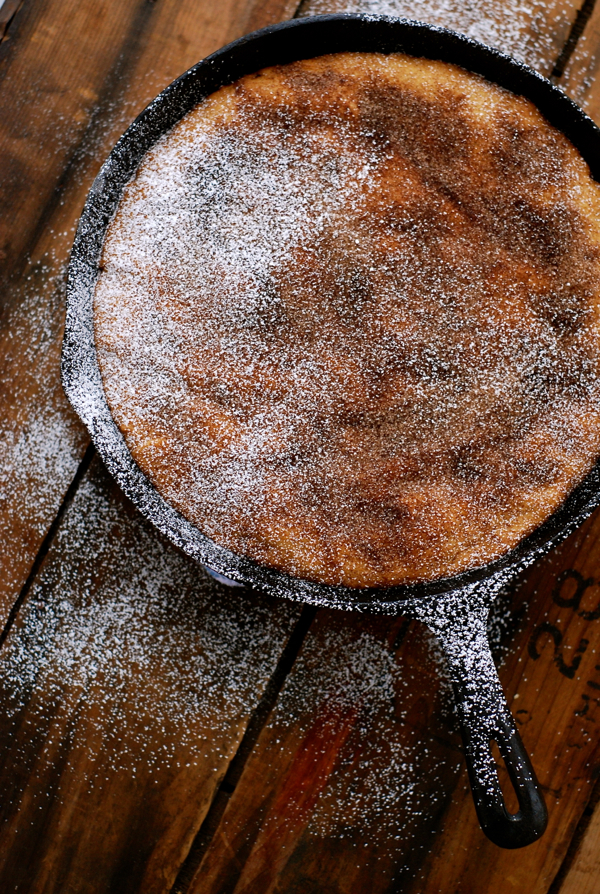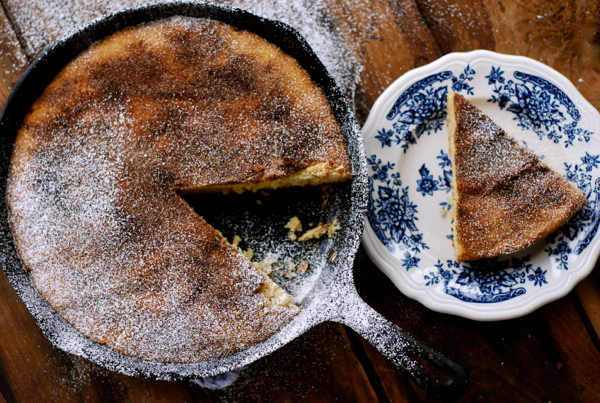 A thick, moist snickerdoodle in a… wait for it… skillet!
Have you ever made a skillet cookie? They're sometimes called skookies, and they're not only way easier to make than a batch of little cookies, they're delicious! I love how they look when they emerge from the oven. So rustic and pretty. Just bring the whole thing to the table when it's done baking and place it on a trivet. A dramatic dessert without all the fuss. Everyone will ooooohhhh and ahhhhh while they wait for it to cool, and the fragrance of a fresh baked skookie is the best aromatherapy ever! Serve with big scoops of your favorite vanilla ice cream if you really want a crowd pleaser!
~ preheat oven to 350 degrees F. ~
2 and 3/4 cup all purpose flour
2 teaspoons cream of tartar
1 teaspoon baking soda
1/2 teaspoon salt
1 cup butter, softened
1 and 1/2 cups sugar
2 large eggs
2 teaspoons pure vanilla extract (I used Trader Joe's brand bourbon vanilla)
2 Tablespoons sugar + 2 teaspoons cinnamon (topping)
In a large mixing bowl, combine flour, cream of tartar, baking soda and salt. Mix well.
In another mixing bowl, cream the butter and sugar until light and fluffy. Add eggs, one at a time, mixing well after each addition. Add vanilla. Mix well.
Butter a 10 to 12 inch cast iron skillet and sprinkle 1 teaspoon of the cinnamon/sugar mixture evenly over the bottom. Spread cookie dough evenly into pan. Sprinkle the rest of the cinnamon and sugar over the top. Bake 35 to 40 minutes or until golden and completely set in middle. Cool skookie in the skillet, on a wire rack or trivet, for 20 minutes prior to cutting and serving.
Enjoy!
~Melissa
You may enjoy these related posts: