Print Friendly Version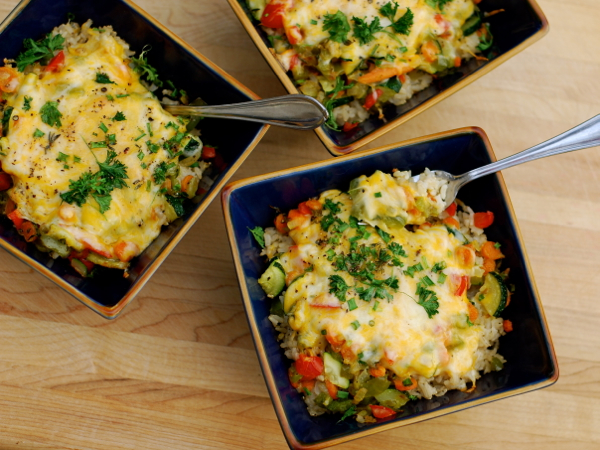 Healthy and delicious! Make these ooey gooey, cheesy, bowls vegetarian, or add some grilled chicken or steak if you want the extra protein. They're so easy and good!
You can use whatever veggies you like. This time I made our dinner bowls with zucchini, green bell pepper, tomato, onion, and carrots.
for 4 dinner bowls:
~ preheat oven to 350 degrees F. ~
4 cups cooked brown rice
2 Tablespoons olive oil
4 cups chopped veggies of your choice
1 Tablespoon fresh thyme leaves
1 teaspoon onion powder
1 teaspoon garlic powder
4 cups shredded cheddar jack cheese (or your favorite melting cheese)
fresh snipped chives
fresh parsley, chopped
salt and pepper, to taste
hot sauce, to taste
soy sauce, to taste
Heat oil in a large heavy skillet. Once hot, add the chopped veggies and saute over medium-high heat until tender and translucent (approximately 5 minutes.) Stir in fresh thyme, onion powder, and garlic powder.
Place 1 cup of cooked brown rice in each of 4 oven-safe bowls. Top each of the rice portions with 1 cup of the sauteed veggies, followed by 1 cup of shredded cheese. Top each bowl with approximately 2 teaspoons snipped chives and 2 teaspoons fresh, chopped parsley.
Place bowls in preheated oven and bake for 30 minutes or until cheese is melted and bowls are very hot all the way through. Top with grilled meat if you wish. Salt and pepper to taste. Serve with hot sauce and soy sauce.
Enjoy!
~Melissa
You may enjoy these related posts: