Print Friendly Version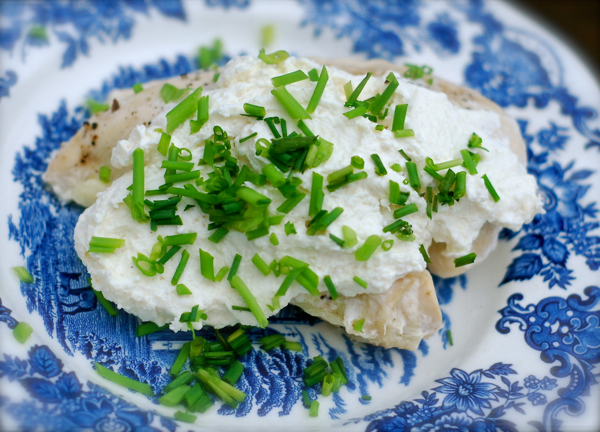 If you're looking for a quick, tasty, easy meal to prepare in less than 30 minutes, this is the recipe for you. We love the creamy cheese topping! Sometimes I use pineapple cream cheese on top of grilled teriyaki chicken and that's good too. If you'd like to serve this delicious topping on fish, just add a little dill and serve it with lemon wedges. Voila. Dinner is served.
We like this topping served cold, on top of hot chicken, but you can certainly spread it over the meat prior to baking it if you like a warm, saucier sauce. To do this, spread sauce over raw meat in a baking dish. Bake at 425 degrees F, uncovered, for approximately 30 minutes.
2 lb. boneless skinless chicken breasts (or cod fillets)
1/4 cup butter, softened to room temperature
1/2 cup plain Greek yogurt
4 oz. cream cheese OR pineapple cream cheese, softened
1/2 cup grated Parmesan cheese
1/4 teaspoon white pepper
snipped chives (for chicken/fish)
fresh dill, chopped (for fish)
Bake or grill chicken until juices run clear when sliced into and very hot in the center of each piece. If you're making fish, it's done when it flakes easily with a fork.
While meat is cooking, make up your cream cheese topping by mixing the softened butter, yogurt, cream cheese, Parmesan cheese, and white pepper in a medium bowl until smooth.
Once meat is done, plate and spread some of the cream cheese sauce over the top.
Top with chives and/or dill.
Enjoy!
~Melissa
You may enjoy these related posts: