Print Friendly Version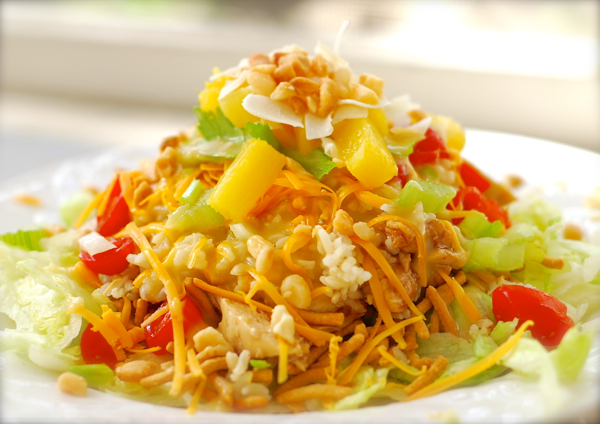 This is one of those fun, serve yourself dinners that everyone loves! Just provide the toppings and let everyone build their own haystacks! Perfect party fare!
You can use premade chicken gravy for this, or you can make up a batch with the easy recipe provided in this post.
Layer ingredients on plate in order listed:
shredded lettuce (we use iceberg or romaine for this)
crunchy Chinese noodles
hot, grilled or baked chicken chunks tossed with teriyaki sauce
hot, cooked white or brown rice
hot chicken gravy (easy recipe below)
chopped tomatoes
grated cheddar cheese
chopped celery
chopped onions
another scoop of chicken gravy
fresh chopped pineapple OR canned pineapple tidbits, drained well
shredded coconut
macadamia nuts, chopped OR sliced almonds
~ easy chicken gravy ~
1/3 cup unsalted butter
1/3 cup all purpose flour
32 oz. chicken stock/broth (low sodium)
Melt butter in a medium skillet over medium heat. Once melted, whisk in flour. Continue to whisk until lightly golden and slightly nutty in fragrance. Slowly whisk in the chicken stock. Continue to whisk until hot and thickened to desired consistency. Cover and serve within 30 minutes. Refrigerate any unused gravy and enjoy within 5 days.
Enjoy!
~Melissa
You may enjoy these related posts: