Print Friendly Version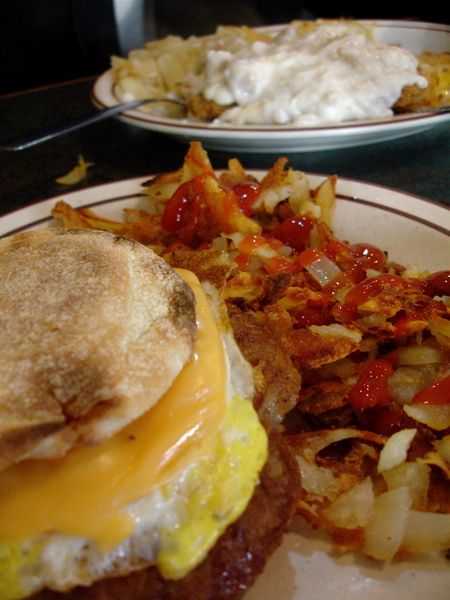 This is a funny little story about the evolution of a certain sandwich. It started with the McDonald's McMuffin…which I am personally not a fan of. Then one day, about 11 years ago my bestie Jana introduced me to a little cafe in Red Wing called Bev's. She suggested I try her favorite sandwich, The McBev. Well, it's awesome…and nothing like the fast food version. So, now whenever I go to Bev's (about once a month,) I get this sandwich. My favorite way to order it is with the thick sausage patty and some hashbrowns. And a nice sprinkling of Cavender's Greek seasoning.
Jeff and I have gotten in the habit of making our own version of the McBev at home. We call it the Bevver (because it's easier to say,) and because we love them so much, we've invented this slightly healthier version.
We toast Thomas Light Multi-Grain English Muffins and we either lightly butter them or spread them with a little light mayo (Hellmann's Canola Mayo.) Instead of regular bacon or sausage, we use lean ham or Canadian bacon. We baste our eggs instead of frying them, and we top the sandwiches with real, extra sharp cheddar cheese, onion powder, garlic powder, salt and pepper(because as lovely as Cavender's seasoning tastes it contains MSG.). Oh, and of course the sammy is complete only after a generous pool of ketchup is applied to the plate. Did you know Heinz makes a natural ketchup now? No corn syrup. It's called Simply Heinz, and it still tastes awesome.
So the next time you're in Red Wing, give the original McBev a try…and if you enjoy a high-protein, savory breakfast on a regular basis, try our little recipe.
Enjoy!
~Melissa
You may enjoy these related posts: