Print Friendly Version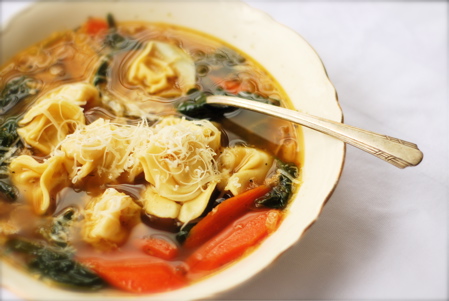 ~ spring chicken soup ~
It's a little chillier today than it has been the last couple days, and the forecast says possible rain. I have a few light soups in my recipe box that I like to take out in early spring, on days just like today. This little soup cooks up quickly, and is hearty enough to stand on it's own, but feel free to serve it with homemade buttered bread and a cup of your favorite tea.
3 Tablespoons olive oil
3 large carrots, peeled and sliced on the diagonal
1 large onion, chopped
2 large cloves garlic, minced
4 (14.5 oz cans chicken broth) or homemade stock
1 cup dry white wine
18 oz. tortellini (any type)
3 cups cooked chicken, cut into bite size pieces (pre-cooked rotisserie chicken works well here)
1 Tablespoon chopped, fresh herbs (oregano, thyme and basil are especially good)
5 oz. fresh spinach, washed
1/2 cup shredded fresh Parmesan cheese
salt and pepper
Heat oil in a large, heavy stock pot or Dutch oven. Add carrots and onions. Cook for 4 minutes. Add the minced garlic. Cook one minute longer. Add chicken broth and wine. Bring to boil. Add tortellini, chicken and herbs. Reduce heat and boil gently for 4 minutes. Add spinach and cook for an additional 4 minutes, or until the tortellini is done. Ladle into bowls, and sprinkle with a little Parmesan cheese. Salt and pepper to taste.
Enjoy!
~Melissa
You may enjoy these related posts: