Print Friendly Version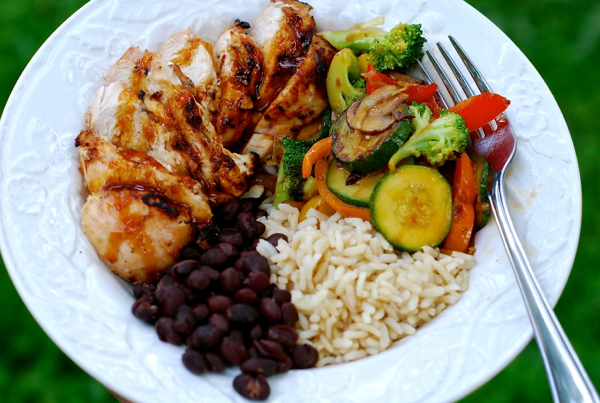 Who else loves bowl dinners? I have quite a few tried and true recipes for the popular "grain" and "protein" bowls in the blog archives, but I always enjoy adding new ones to my repertoire.
This one was heavily inspired by a bowl that Gracie enjoyed a couple times while visiting the always awesome Wahoo Fish Tacos in Manhattan Beach, CA. She asked if I could recreate it and after looking at the simple ingredients, I was quite sure I could. Grace said it was awesome! Victory! I look forward to recreating more of their recipes in my kitchen in the very near future.
For 3 large Banzai Bowls:
3 grilled, baked or sauteed boneless, skinless chicken breasts
1 and 1/2 cups cooked brown rice
1 and 1/2 cups canned black beans, drained, rinsed well and warmed
1/4 cup extra virgin olive oil, divided
1/2 red bell pepper, coarse chopped
1/2 orange bell pepper, coarse chopped
1/2 yellow bell pepper, coarse chopped
1 to 2 smallish zucchinis, sliced
2 cups small, raw broccoli florets
8 oz. washed baby bella mushrooms, sliced thick
2 cups shredded cabbage
1 medium purple onion, peeled, halved and sliced
your favorite bottled teriyaki sauce, to taste (we adore THIS kind)
Cook chicken however you wish (we like them grilled for this.) Set aside and keep warm.
Prepare rice according to package directions, or purchase already made brown rice. Prepare beans. Set aside and keep warm.
Pour 2 Tablespoons of the olive oil in each of two large, heavy skillets (or if you have a big wok, just use that.) Heat oil. Once hot, but not quite smoking, add half of the veggies to each skillet. Stir fry until veggies are tender and lightly golden, but not mushy. Toss with as much teriyaki sauce as you like, being careful not to overdo it as teriyaki sauce can be pretty salty.
Divide the chicken, rice, beans and teriyaki veggies evenly among the bowls. (You may have extra veggies which are awesome on breakfast eggs the next day.) Drizzle a little teriyaki over your chicken breasts too. Serve immediately.
Enjoy!
~Melissa
You may enjoy these related posts: