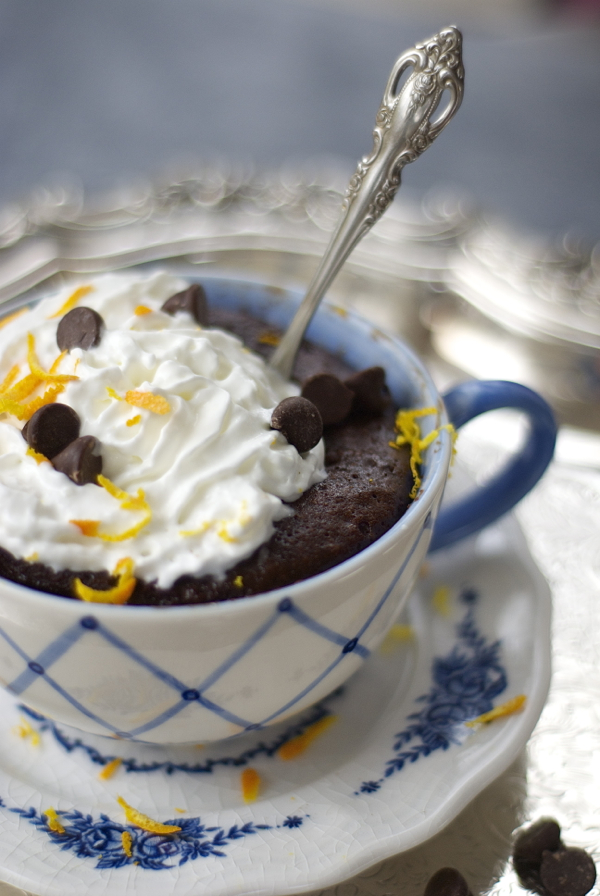 Who loves chocolate? Mug cake recipes are floating around on the internet like mad, but I was reminded that I wanted to try this little dish of decadence when I saw THIS POST by my friend Ann at Sumptuous Spoonfuls. She adds red wine to hers, which I just love…and it got me thinking about all the different ways you could dress this mug cake up! What a pretty conclusion to a fancy dinner party or tea event! I was afraid to microwave my fine china, so I headed to the nearest thrift store in search of a pretty, microwave-safe mug. I LOVE desserts served in teacups, but I don't think microwaving fine china is a good idea. I found the mug pictured above. There was only one on the shelf. Kismet 🙂
Mug cake is oh-so-moist, chocolaty and delicious! So pleased I discovered this easy dessert!
In a medium-large, microwave-safe mug, combine:
4 Tablespoons all-purpose flour
5 Tablespoons sugar
3 Tablespoons unsweetened cocoa powder
pinch salt
Mix well…and then add:
3 Tablespoons whole milk
3 Tablespoons melted butter
1 slightly beaten egg
3 Tablespoons semi-sweet chocolate chips
2 teaspoons Grand Marnier (orange liqueur)
Microwave on high for one minute and 30 seconds. The cake should be cooked but very moist. Garnish with more chocolate chips, orange zest and a dollop of real whipped cream!
variations:
add 2 teaspoons chambord and garnish with raspberries!
add 2 teaspoons creme de menthe and garnish with mint leaves and chopped up Ande's mints
add 2 teaspoons banana or coconut liqueur and garnish with toasted coconut and a little umbrella
add 2 teaspoons Bailey's irish cream…
add 2 teaspoons Kahlua…
the possibilities are endless!
ENJOY!
~Melissa
You may enjoy these related posts: