Print Friendly Version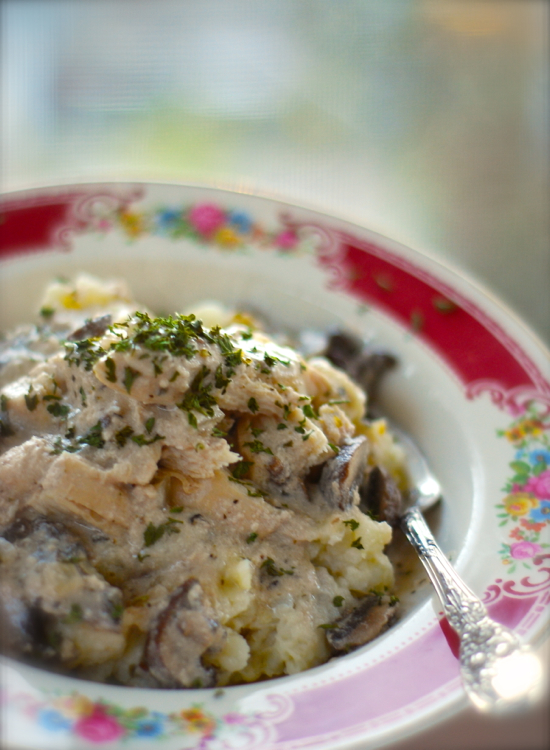 Have you ever tried to make a light, boneless-skinless, chicken dish in your crockpot only to end up with a dried out, inedible chunk of meat by the time you're ready to eat? I had pretty much given up on trying to make anything except barbecue chicken drummies in my crockpot…and then I learned a little secret.
Cooking lean chicken pieces in yogurt all day will keep them tender. It's the acids in the yogurt that work their magic by tenderizing the meat. I LOVE using yogurt as the base of chicken marinades for grilling too… you can read more about that HERE and HERE.
This particular yogurt chicken dish is so flavorful, you almost forget you're eating healthy. I use to make it with Campbell's cream of mushroom soup, but I try not to use anything that contains MSG in our meals anymore. I've substituted Amy's organic cream of mushroom soup for the Campbell's and I actually like it more. Serve your stroganoff over skin-on baked potatoes,  white or brown rice, egg noodles or spaetzle for a warm, comforting family dinner. Wonderful with steamed veggies or a crispy green salad.
6 boneless, skinless chicken breasts
1 can Amy's Cream of Mushroom Soup
16 oz. whole milk plain yogurt
2 Tablespoons dry, minced onion
2 MSG-free beef or chicken boullion cubes
1 large clove minced garlic OR 1 teaspoon garlic powder
16 oz. chopped, fresh mushrooms or your choice (we love baby bellas)
1/2 cup dry white wine
freshly ground black pepper
chopped fresh or dry parsley for garnish
Put fresh or frozen, boneless-skinless chicken breasts in the bottom of a big crock pot. Mix remaining ingredients, except for the parsley, pour over chicken and cover. Cook on low for 6 to 7 hours. Salt to taste. Serve on noodles, potatoes, spaetzle dumplings or rice. Garnish with parsley. Delicious paired with a glass of pinot grigio.
Enjoy!
~Melissa
You may enjoy these related posts: