Print Friendly Version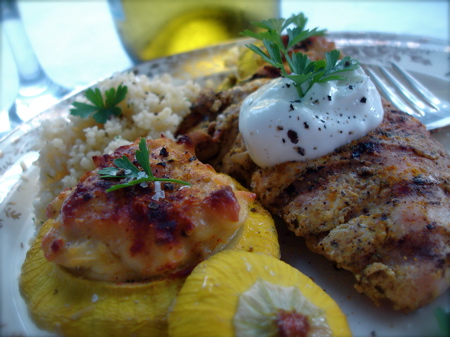 This is a delicious, easy and healthful Indian style meal that tastes fantastic paired with a gewurztraminer wine. Marinating chicken in yogurt for 24 hours makes the meat very tender and flavorful. I love to serve this with stuffed pattypan squash and seasoned cous cous. A dollop of Greek yogurt, along with a dab of mango chutney, are especially good with this dish.
~easy tandoori chicken on the grill~
4 large, boneless, skinless chicken breasts
1 cup plain yogurt
1/4 cup curry powder
1/4 cup lemon juice
splash of white wine
1 teaspoon Tony Cachare's Cajun Seasoning
1 teaspoon cumin
1 teaspoon garlic powder
1/2 cup toasted coconut
1/2 cup raisins
1/2 cup slivered almonds
dash of cayenne pepper
Combine yogurt, curry, lemon juice, wine, Cajun seasoning, cumin and garlic powder together in a mixing bowl. Make 3 long slits lengthwise that go half way through each chicken breast. Place chicken breasts in a rectangular cake pan or a large casserole pan. Pour the yogurt sauce over each breast, making sure you get yogurt inside all the slits. Cover tightly and allow to marinate in the refrigerator for 24 hours. Grill on high heat 10 to 12 minutes per side. Garnish with toasted coconut, raisins and slivered almonds.
Enjoy!
~Melissa
You may enjoy these related posts: