Print Friendly Version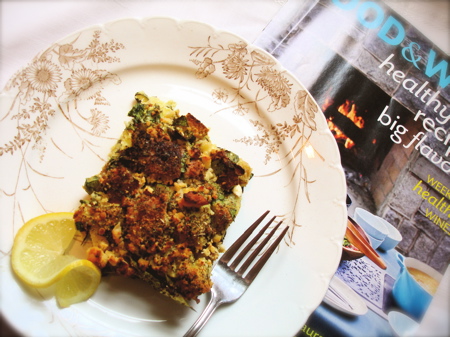 photograph by Melissa Placzek
I was paging through the latest copy of one of my favorite magazines, Food & Wine, and came across this recipe for breakfast bread pudding. It's a recipe by Heidi Swanson of the fabulous 101 Cookbooks food blog. She shares this delicious, healthy recipe from her new cookbook Super Natural Every Day. I made it this morning and I really like it. It's a creamy, lemony, cheesy, egg bake with the wonderful flavors of oregano and extra virgin olive oil. I added a clove of garlic, and substituted half of the milk with whole milk, organic plain yogurt.
~Breakfast Bread Pudding~
3 Tablespoons extra virgin olive oil
8 oz. whole wheat bread cut into 1/2 inch cubes
5 oz. baby spinach, finely chopped
1/2 cup crumbled feta cheese
2 teaspoons Dijon mustard
1/2 teaspoon finely grated lemon zest
1 Tablespoon fresh lemon juice
6 large eggs, beaten
2 cups milk
kosher salt and freshly ground pepper
1 teaspoon chopped oregano
Preheat oven to 350 degrees F. Lightly oil a 9 x 13 baking dish and set aside. Spread bread cubes on a greased baking sheet and bake for about 10 minutes, until dry but not browned. Let cool. Transfer to a large bowl. Stir in the spinach and 1/2 of the feta.
In a smaller bowl, whisk 2 Tablespoons of the olive oil with the mustard, lemon zest, lemon juice (and garlic if you want to add it.) Add eggs and whisk until blended. Add milk (and yogurt if you're substituting) and season with salt and pepper. Pour egg mixture over bread mixture and stir until bread is evenly moistened. Transfer to the baking dish and allow to stand at room temperature for 2 hours (or refrigerate over night.)
When ready to bake, sprinkle the remaining feta on the bread pudding and bake in the center of the oven until risen, set and fairly dry (40-60 minutes.) Turn on broiler. Drizzle the remaining 1 Tablespoon olive oil over the top and broil until bread pudding is golden and crispy on top (about 2 minutes.) Scatter oregano over top. Cut into squares and serve.
Enjoy!
~Melissa
You may enjoy these related posts: