Print Friendly Version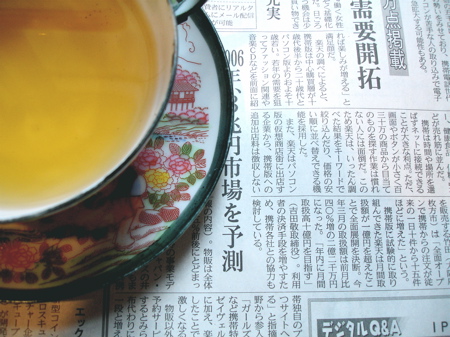 photograph by Melissa Placzek
"Meanwhile, let us have a sip of tea.
The afternoon glow is brightening the bamboos,
the fountains are bubbling with delight,
the soughing of the pines is heard in our kettle.
Let us dream of evanescence,
and linger in the beautiful foolishness of things."
~Okakura Kakuzo
:: Tea of the Week ::
Japanese Sencha
This is a common, moderately priced green tea that took me a little while to get use to. I remember the first time I tried it and thinking "mmmmm….it tastes like a hay bail."  This tea is a good example of a tea that takes awhile to get use to, and proof positive that even the most pungent, earthy teas can become favorites.
Sencha is made from the first harvest of leaves in the spring. The leaves are immediately steamed which removes the enzymes from the tea and makes the color more vibrant. It is then dried and rolled.
Characteristics- Delicate and sweet with a flavor reminiscent of the sea and freshly mown grass.
Appearance- Deep, vibrant flecked, green "needles" result in a golden-yellow liquor.
Tea pairing- Wonderful with all seafood dishes and fresh salads.
:: Tea Fact ::
Japanese Sencha is extremely high in vitamin C.
What's in your teacup?
~Melissa
You may enjoy these related posts: