Print Friendly Version
"Each cup of tea represents an imaginary voyage."
~Catherine Douzel
photograph by Melissa Placzek
:: Tea of the Week ::
Rooibos
This tea is produced only in the Western Cape province of South Africa and is also known as rositea, red tea and red bush. It is believed to aid longevity and is called "Long Life" tea in Japan. Rooibos is not a "true" tea (one that is processed from the Cameilla sinesis plant) but is produced from a plant called Aspalathus linoaris. It is high in antioxidants and contains no caffeine. Rooibos has been used to treat indigestion, infant colic, asthma, allergies and acne. Rooibos is a natural anti-inflammatory.
Character: fruity, sweet and a little reminiscent of tobacco. It has a sweet, rounded flavor and is commonly blended with citrus peel, fruits, nuts, berries, herbs and spices. One of my favorite rooibos blends is called Montana Gold and is blended with orange peel , cinnamon and cloves.
Appearance: A distinct red color…I took a picture of our tin of rooibos…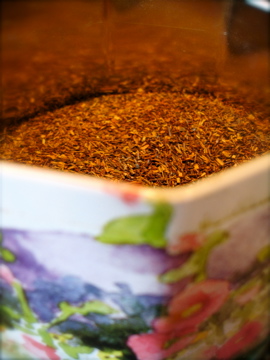 :: Tea Fact ::
Until the early 19th century all the tea consumed in Britain was imported from China transported exclusively on ships of the English East India Company.
What kind of tea are you enjoying today?
~Melissa
You may enjoy these related posts: