Print Friendly Version
~Valentine's Treat 7~
A Strawberry Menu
"…Sit on a cushion, and sew a fine seam,
and dine upon strawberries, sugar and cream."
~From the Mother Goose nursery rhyme "Curly-Locks"
Happy Valentine's Day! We started celebrating yesterday…
We started the day with
Strawberry Milk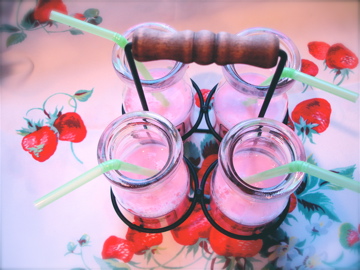 and I made a loaf of
Strawberry Breakfast Bread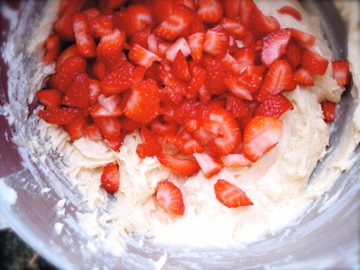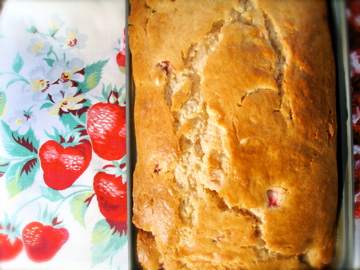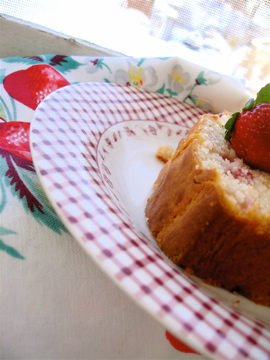 This got rave reviews. Jeff and Gracie slathered it in butter
(I heard lots of yummy noises )
If you'd like to make a loaf you'll need :
1/2 cup butter, softened
1 cup sugar
6 oz. cream cheese, softened
2 eggs
6 Tablespoons strawberry milk
2 Tablespoons white vinegar
1 teaspoon vanilla extract
2 cups flour
2 teaspoons baking powder
1/2 teaspoon baking soda
1/2 teaspoon salt
1 and 1/2 cup fresh strawberries
Wash and chop strawberries. Blot a little to remove excess water and juice. Set aside. Generously butter a 9×5 loaf pan. Mix butter, sugar and cream cheese until fluffy. Add eggs, strawberry milk, vinegar and vanilla. Mix well. In a separate bowl, combine flour, baking powder, baking soda and salt. Gradually add flour mixture to wet ingredients. Mix until just combined. Gently fold in the strawberries. Batter will be thick. Pour into loaf pan. Bake at 350 degrees F for 55 to 65 minutes (or until a toothpick comes clean when inserted in center of loaf.) Allow to cool for 20 minutes before turning out onto a wire rack. Eat warm or at room temperature. Cool completely before storing in an airtight container in the refrigerator.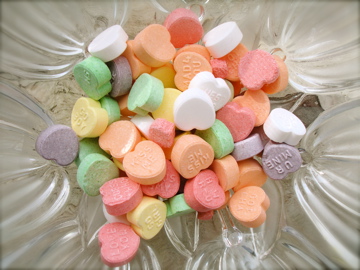 what would Valentine's Day be without  conversation hearts?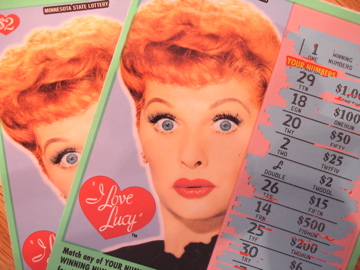 …and "I Love Lucy" scratch-offs?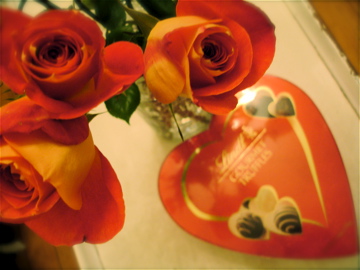 and roses…and truffles?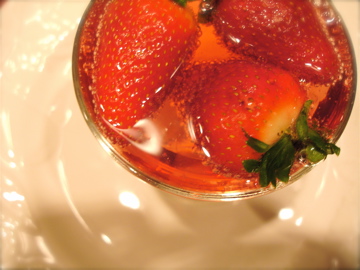 and champagne?
Hee hee…well, we have our traditions, but
What really makes this day special is spending it with
the people I LOVE!
Gracie made some homemade valentines…later, Andie and Maddie May came over for awhile and we watched  one of Andie's favorite movies from when she was younger, "Turner and Hooch." I had forgotten how cute it is.  It was a relaxing day and fun was had by all. Jeff gave me a new word game, Bananagrams, but we didn't get around to playing it yet…Can't wait!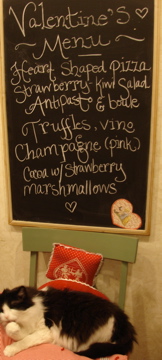 For dinner…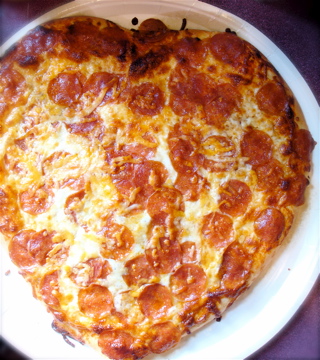 Papa Murphy's Heart Shaped pepperoni pizza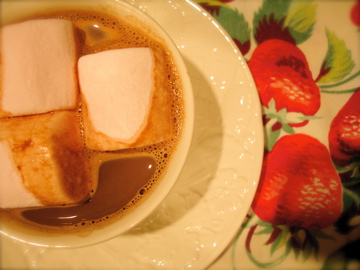 photographs by Melissa Placzek
After dinner we went for a walk. It was gorgeous outside!
When we got home we made homemade cocoa with
strawberry marshmallows.
How do you celebrate Valentine's Day?
XO,
Melissa
You may enjoy these related posts: