Print Friendly Version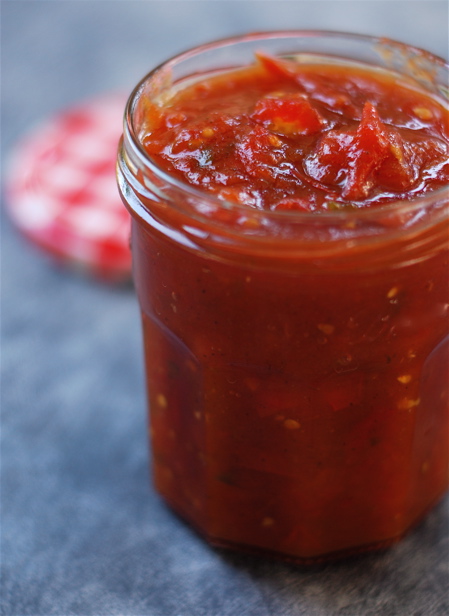 ~ tomato jam ~
This is a tomato jam recipe inspired by my favorite minimalist, Mark Bittman. The man is a genius. 'Nuff said. I made a couple minor changes to the recipe. It's amazing. How do you use tomato jam you may ask? Well, the beauty of this condiment is it's versatility. It's sweet, it's savory, it can be used in place of ketchup or barbecue sauce! Slather some on a toasted garlic bagel with cream cheese, dip your french fries in it, spread it on a thick slice of sourdough bread and top with gooey soft boiled eggs, place a little dish of it next to a cheese and cracker tray, use it as a sandwich topping with ham or turkey and fried onions, use it as a glaze for fish, chicken or pork. Top rosemary scones with a bit of chevre, tomato jam and crumbled bacon for a standing ovation.
3 lb. ripe Roma tomatoes
2 cups sugar
1/4 cup freshly squeezed lemon juice
1 to 2 teaspoons ground ginger powder
1 teaspoon ground cumin
1 teaspoon ground cinnamon
1/4 teaspoon to 1/2 teaspoon  ground cloves
1 to 2 teaspoon salt
2 seeded jalapeno peppers, chopped fine
Combine all in a medium saucepan. Bring to boil over medium heat, stirring often. Simmer for one hour and 15 minutes. During the last five minutes add 1 to 2 teaspoons cornstarch mixed with a little cold water. Stir with a wire whisk until thick. Pour into sterilized canning jars and cover tightly. Chill in refrigerator until ready to use. Keeps for one week in the refrigerator.
Enjoy!
~Melissa
You may enjoy these related posts: