Print Friendly Version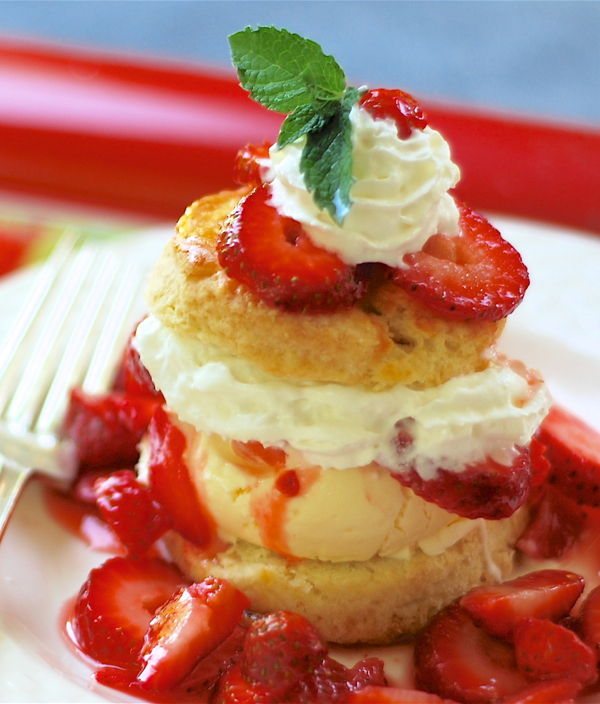 ~ old fashioned strawberry shortcake a la mode ~
We make this classic dessert with rich, homemade shortcakes, vanilla ice cream, real whipped cream, and fresh lemon and sugar macerated strawberries. It's the perfect summer treat, and sometimes we have it in place of supper.
for the shortcakes:
2 cups all-purpose flour
1 Tablespoon sugar
1 Tablespoon baking powder
1 teaspoon salt
12 Tablespoons cold butter, cut into chunks
2 large eggs, beaten
1/2 cup cold heavy whipping cream
1 egg beaten with 2 Tablespoons cream (for egg wash)
coarse, raw sugar for sprinkling
Preheat oven to 400 degrees F. Combine flour, sugar, baking powder and salt in the bowl of your Kitchen Aid fitted with paddle attachment. Slowly add the butter while the mixer is on medium-low. Mix until butter is the size of peas. Mix the eggs and cream separately and then add them to the flour mixture. Combine until just blended.
Transfer dough to a floured work surface and pat the dough to 1 inch thick. Cut out as many shortcakes as you can with a biscuit cutter ( this recipe will yield between 9 and 12.) Place shortcakes on a large, lightly buttered baking sheet. Brush with egg wash, sprinkle with the raw sugar, and bake for 20 minutes, or until golden brown and completley cooked. Cool completely on wire racks.
for berries:
Wash and slice a couple pounds of fresh strawberries. Place in bowl with juice of 1 and 1/2 lemons and sugar to taste. Mix well, cover and chill in refrigerator until ready to use.
To assemble dessert:
Split shortbreads in half . Place bottom half on plate. Top with a scoop of vanilla ice cream, some of the strawberries, fresh whipped cream, the top half of the shortcake, more strawberries and more whipped cream. Garnish with a piece of strawberry on top and a mint leaf if you wish.
Enjoy!
~Melissa
You may enjoy these related posts: