Print Friendly Version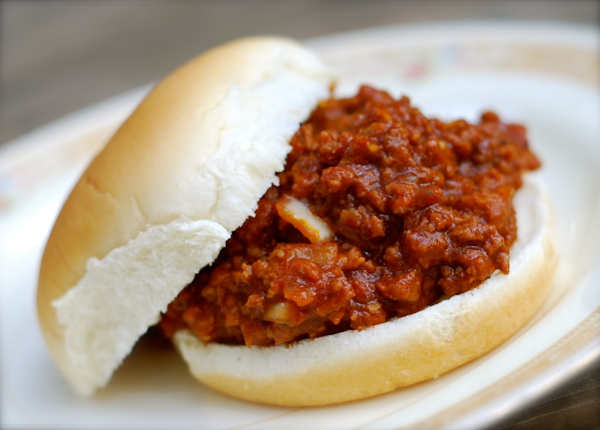 Here's an easy, yummy, entree you can make to feed a crowd. Great for potlucks, grad parties, and children's birthday parties.
~ serves 30 to 40 people ~
5 lb. extra lean ground beef
2 medium onions, diced
1 large sweet green bell pepper, seeds and stem removed, diced
3 large cloves garlic, minced
1 teaspoon Lawry's seasoned salt
1 teaspoon freshly ground black pepper
1 (12 oz.) bottle or can of your favorite root beer
1/4 cup Worcestershire sauce
1 Tablespoon of your favorite hot sauce (optional)
1 Tablespoon prepared yellow mustard
2 cups of your favorite ketchup
2 cups of your favorite BBQ sauce
30 to 40 buttered hamburger buns
cheese slices (optional)
pickle slices (optional)
Brown beef in a large Dutch oven until browned half way through and there's still a bunch of pink meat. Place in slow cooker.
Saute the onion and sweet bell pepper in the same Dutch oven until translucent and tender (about 5 minutes.) Add to slow cooker along with the rest of the ingredients. Mix well. Cover and place on LOW for approximately 6 hours, or until meat is done all the way through. Turn to high, uncover and allow sauce to reduce to desired thickness. Taste. Adjust seasonings. Serve on buttered hamburger buns or Kaiser rolls with cheese and pickles on top, if you wish.
These BBQ Sloppy Joes are awesome with potato salad, macaroni salad, or your favorite chips!
Enjoy!
~Melissa
You may enjoy these related posts: