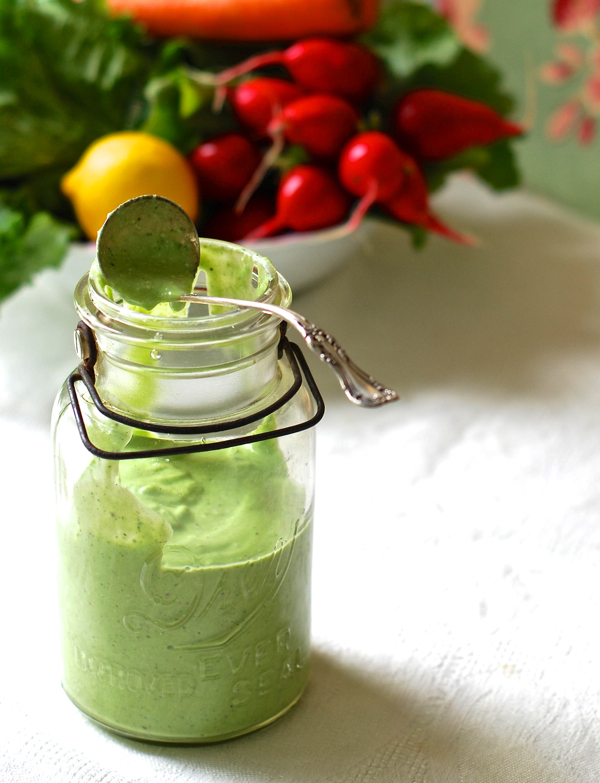 "They gradually ascended for half a mile, and then found themselves at the top of a considerable eminence, where the wood ceased, and the eye was instantly caught by Pemberley House, situated on the opposite side of a valley, into which the road with some abruptness wound. It was a large, handsome, stone building, standing well on rising ground, and backed by a ridge of high woody hills;—and in front, a stream of some natural importance was swelled into greater, but without any artificial appearance. Its banks were neither formal, nor falsely adorned. Elizabeth was delighted. She had never seen a place where nature had done more, or where natural beauty had been so little counteracted by an awkward taste. They were all of them warm in her admiration; and at that moment she felt that to be mistress of Pemberley might be something!" ~Jane Austen ~Pride and Prejudice
My latest homemade salad dressing creation…. Enjoy, Lovelies!
~ Pemberley Gardens Creamy Pesto Salad Dressing ~
1 cup real mayonnaise
2/3 cup buttermilk
1/2 cup grated Parmesan cheese
1/2 cup fresh chives, coarse chopped
1/2 cup fresh parsley, coarse chopped
1/2 cup fresh basil leaves, coarse chopped
juice of one lemon
2 Tablespoons unfiltered extra virgin olive oil
2 garlic cloves, peeled and coarse chopped
2 teaspoons freshly ground black pepper
1 teaspoon sea salt
finely chopped pine nuts or pecans for garnish
Place all ingredients, except for the pine nuts/ pecans, in the bowl of a blender. Blend until very smooth. Transfer to a cruet or canning jar with a tight fitting lid. Drizzle over salad and garnish with the pine nuts or pecans. This dressing will keep in your refrigerator for a week.
XO,
~Melissa
You may enjoy these related posts: