Print Friendly Version
Has anyone else noticed the "salted caramel" flavor trend? I first discovered salted-caramel when we visited Nesbitt's Orchard & Nursery in Prescott Wisconsin this past autumn. They were offering Izzie's Salted Caramel ice cream. It was love at first bite!
Recently I've been coming across a bunch of awesome looking recipes that include salted caramel. My friend and blogger extrordnaire, Emily Loerke of "Today's Letters,"wrote about a favorite recipe of hers called Caramel Slice that she got here. And the person on that blog got it from Bon Appetit. When I read about the shortbread crust topped with gooey caramel, chocolate and sea salt I just knew I had to give the recipe a whirl. Let me just say…These are AWESOME! This is definitely a recipe worth sharing!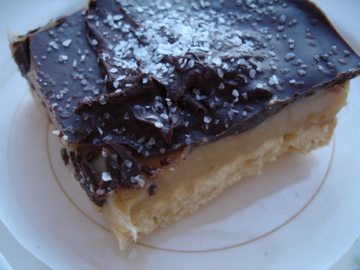 ~Caramel & Chocolate Squares with Sea Salt~
makes 16-20
crust:
1 cup all purpose flour
1/4 cup brown sugar
2 tsp cornstarch
1/4 tsp salt
1 stick unsalted butter, cut into pieces
1 tbs ice water
1 egg yolk
toppings:
14 oz can sweetened condensed milk
1/2 cup brown sugar
6 tbs unsalted butter, diced
2 tbs dark corn syrup
1 tsp vanilla extract
6 oz bittersweet or semisweet chocolate, coarsely chopped
1-2 tbs Maldon sea salt
Preheat oven to 350 degrees F. grease a 8 1/2-inch square metal baking pan. Blend flour, brown sugar, cornstarch and salt in a food processor. Add butter and pulse until a coarse meal forms. Add ice water and egg yolk and blend just until moist clumps form. Press dough evenly into bottom of prepared pan. Pierce all over with a fork. Bake 20 minutes or until golden brown. Cool completely.
Whisk together condensed milk, brown sugar, butter, corn syrup and vanilla in a medium saucepan over medium heat until sugar dissolves, butter melts and mixture comes to a boil. Insert a candy thermometer and boil gently until caramel is thick and temperature reaches 225 degrees F. Whisk constantly to prevent from burning. pour caramel evenly over cooled crust and let set 15 minutes. Melt chocolate in the microwave at 15 second intervals, stirring occasionally. Be careful to not over-cook the chocolate. Remove from microwave when just melted. Spread melted chocolate evenly over caramel layer. Sprinkle with sea salt and refrigerate until set (at least one hour). This can be made three days ahead if covered and refrigerated. Cut into bars and enjoy!
~Melissa
You may enjoy these related posts: