Print Friendly Version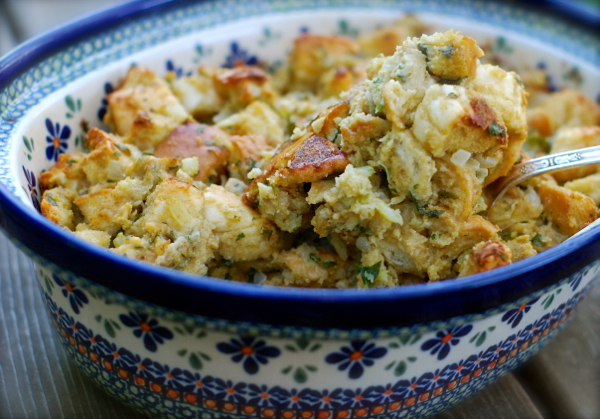 One of my daughter Gracie's favorite foods is stuffing. She doesn't care what time of year it is. I'm pretty sure she could eat it every day.
Here's a versatile, easy stuffing/dressing recipe that you can make as a side dish for virtually any meal. I always feel like something's missing if I don't have gravy to pour over stuffing, so you may want to make up a batch of gravy or buy your favorite pre-made stuff to go with this. Another thing you could do is just heat up extra cream soup and use that as a gravy. We had our fluffy French bread stuffing with steak and salad last night and it was amazing. Light, fluffy, and flavorful.
~ preheat oven to 350 degrees F. ~
10 cups soft French bread, cubed
1 cup Ritz crackers, crushed
1 Tablespoon onion powder
2 teaspoons dried sage
1 teaspoon paprika
1/2 teaspoon garlic powder
1 medium onion, chopped fine (approximately 1 heaping cup)
1 cup celery, chopped fine
1/2 cup (1 stick) butter
15 oz. cream of chicken soup, (canned or homemade) undiluted
3 large eggs, beaten
1/3 cup fresh parsley, chopped
Mix bread cubes, cracker crumbs, and seasonings in a large mixing bowl. Set aside.
Place butter in a heavy skillet over medium heat. Once the butter is melted and hot, add the onion and celery. Saute until tender (approximately 3 minutes.) Pour over the bread mixture in the bowl along with the undiluted cream soup, eggs and parsley. Toss gently until everything is coated and evenly incorporated. Transfer to a buttered, 4 quart, casserole dish. Cover with a lid or foil and bake in preheated oven for one hour.
Enjoy!
~Melissa
You may enjoy these related posts: