Print Friendly Version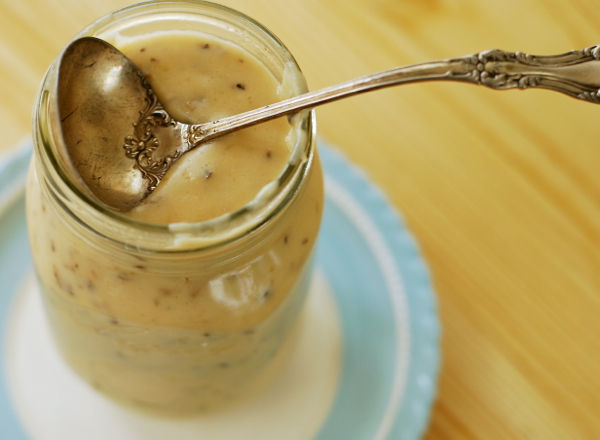 I'm sure you've noticed the amount of easy recipes out there that start with a can (or two) of cream soup. They usually call for cream of mushroom or chicken, and most of the time it doesn't really matter what flavor you use, as long as you have some sort of cream soup to act as a thickener for your casserole, soup, pasta dish, or whatever the dish may be.
We've been trying to stay away from high sodium foods with strange ingredients and MSG, and have been keeping our menu pretty clean. Most canned cream soups (even the healthier ones that you can find down the natural food aisle at your grocery store) are still loaded with salt.
Making your own, homemade cream soup is a great solution. I suggest making up a big batch and freezing 1 and 1/2 cup measurements in small freezer bags. This way, when you need a "can" of cream soup you can reach for the healthier stuff and defrost it. The recipe below is the perfect substitute for the canned stuff, and is the equivalent of approximately 1 (10.75 oz.) can of Campbell's condensed, cream soup. The recipe can be doubled or tripled so you can make a bunch for later. It will keep for 4 days in the refrigerator, or up to 6 months in your freezer.
The 1/2 cup of diced mushrooms can be replaced with chicken (for cream of chicken soup), celery (for cream of celery) and so on…
1/2 cup finely diced baby bella mushrooms
1 Tablespoon onion powder
1 teaspoon garlic powder
1/4 cup butter, divided
1/4 cup all purpose flour
1 cup milk (any fat content will work)
3/4 cup chicken stock or broth (I use no-sodium or low sodium)
salt and pepper, to taste
Place 1 Tablespoon of the butter in a heavy skillet over medium-high heat. Once melted, add the mushrooms and saute, stirring frequently, until they reabsorb their juices (approximately 3 minutes.) Stir in onion and garlic powder. Cook an additional 30 seconds. Remove from heat and set aside.
In another skillet, melt the rest of the butter over medium heat. Once melted, whisk in the flour. Cook 2 minutes, stirring constantly. Whisk in the broth and milk until smooth. Stir in the sauteed mushrooms. Reduce heat to a gentle simmer. Cook for 5 to 10 minutes more, stirring frequently, until thickened. Season to taste with a little salt and pepper.
1 and 1/2 cups of this soup = 1 (10.75 oz) can of undiluted, condensed cream soup.
Enjoy!
~Melissa
You may enjoy these related posts: