Print Friendly Version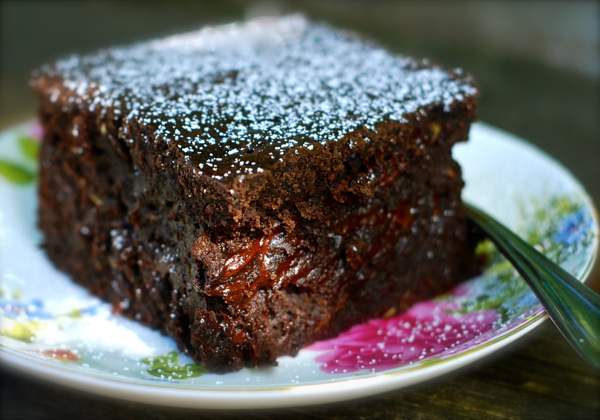 I'm off to the farmer's market and my favorite hippie chick's farm stand to get a bunch of corn for roasted corn panzanella, heirloom tomatoes for more caprese, plum tomatoes for tomato jam … and maybe a squash. The last time I went, I ended up with a HUGE zucchini (for a dollar!) that was added to a cheesy casserole, made into fries and baked into a loaf of bread and this luscious, rich, moist chocolate cake! You can frost this cake if you'd like but there's really no need. And, no, it does not taste like zucchini. Gracie was a little scared of it because of the name, and then she tried it and ate a huge piece for her after-school snack yesterday. You can even pretend this is health food because you use 3 whopping cups of shredded, unpeeled zucchini, a bunch of high protein/high fiber greek yogurt, and everyone knows that chocolate is good for you.
4 large eggs
3/4 cup canola or light olive oil
3 tightly-packed cups shredded zucchini, squeezed dry
1 and 1/4 cup plain greek yogurt
2 teaspoons pure vanilla extract
2/3 cup unsweetened cocoa powder
2 and 1/4 cups sugar
2 teaspoons baking soda
2 teaspoons baking powder
4 cups cake flour
2 cups semi-sweet chocolate chips
Combine the eggs, oil, zucchini, yogurt and vanilla in a large mixing bowl until just incorporated.
In another large mixing bowl, combine the cocoa powder, sugar, soda, baking powder, and cake flour. Using a wire whisk, mix until all dry ingredients are combined.
Add half of the dry mixture to the wet mixture. Mix until just incorporated. Repeat with the second half of the dry mixture. Don't over-mix. Fold in chocolate chips.
Generously butter a 9 x 13 glass cake pan. Pour the cake batter into the pan and, using a rubber spatula, smooth the top to even out the batter.
Bake at 350 degrees for 45 to 60 minutes. Just until the cake starts to pull away from the edges of the pan and is set in the middle. The toothpick test is semi-unreliable for this cake because you will very possibly hit a chocolate chip when testing.

Allow cake to cool in the pan. Enjoy warm, at room temperature or chilled. Jeff loves his with a scoop of vanilla ice cream.
Enjoy!
~Melissa
You may enjoy these related posts: