Print Friendly Version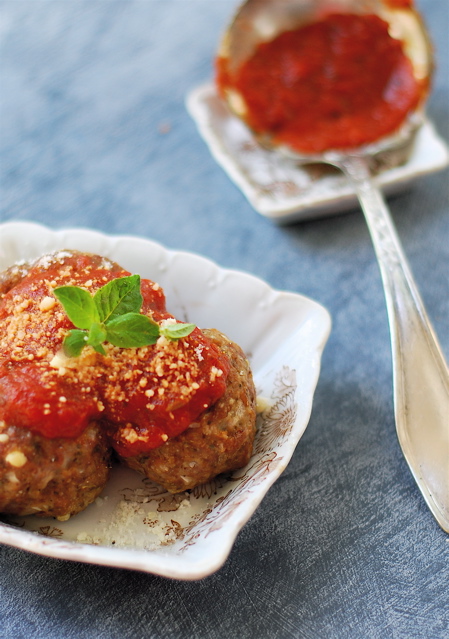 ~ trattoria meatballs ~
So a couple days ago I was making spaghetti and talking to our cat (yes, I did just say that… and sometimes she talks back too. She says "mama" when she's hungry for a treat. Which is about 2,000 times a day. We have created a little furry striped monster.) Anyhoo, I was talking to the cat. I asked her if I should just chop up some meat for the spaghetti sauce or…if I should go through the sort of drawn out production that is making meatballs from scratch. She just blinked at me in that slow, bored way that cats do, which is their way of saying you could put an armadillo in the damn spaghetti sauce for all they care.
I turned the volume up on the Dean Martin and I decided to make the meatballs. They turned out really good. They're always worth the trouble, aren't they?
1 lb ground beef, or a combination of beef and pork
1 teaspoon salt
1 small onion, chopped fine
1 teaspoon garlic powder, or one large minced garlic clove
1 Tablespoon chopped fresh basil
1 Tablespoon chopped fresh oregano
1 egg
2 dashes cayenne pepper
1 teaspoon Sriracha
1 and 1/2 Tablespoons Worcestershire sauce
1/3 cup milk
1/2 cup Parmesan cheese
1/2 cup Italian seasoned breadcrumbs
Place all in a large mixing bowl and mix with your hands until evenly and thoroughly combined. Form into 24 golf ball-sized meatballs. Place on a lightly oiled baking sheet and bake at 400 degrees F. for 20-25 minutes or until no longer pink in the middle.
Serve on top of your favorite spaghetti, or make meatball subs on toasted french rolls… with some of THIS sauce, fresh mozzarella cheese melted over the top and a few chopped kalamata olives….mmmmm!
Enjoy!
~Melissa
You may enjoy these related posts: