Print Friendly Version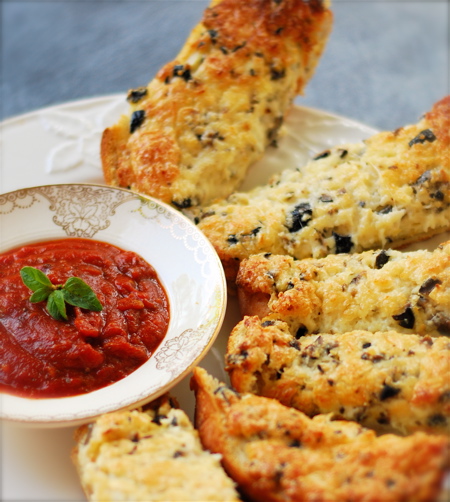 ~ garlic bread ~
Looking for the BEST garlic bread? This is ooey gooey, cheesy, garlicky, and delicious! The black olives are optional. Sometimes I add them, sometimes I don't.
The first time I had this amazing garlic bread I was still living in my little apartment in White Bear Lake. My friend Amy and I would make weekly "craft" dates when we'd get together, create, and cook.
One of those days she came armed with the ingredients for this. It's unlike any other garlic bread I've ever had. It's creamy and garlicy and wonderful…and definitely not diet food. I once watched Jeff and his friend demolish an entire loaf in one sitting, but I don't recommend it. One piece is usually my limit.
one long loaf of soft, French or Italian bread (not a skinny baguette)
1 heaping cup real mayonnaise
2 1nd 1/2 cups mozzarella cheese, grated
1/2 heaping cup Parmesan cheese, grated
1/3 cup black olives, chopped fine (optional)
3 large garlic cloves, minced
2 Tablespoons onion, chopped fine or grated (optional)
freshly ground black pepper
Split loaf lengthwise. Place each half, crust side down, on a large, parchment-lined, baking sheet. Combine the other ingredients and spread the cheesy mayo mixture evenly over both halves of the bread. Bake in a 450 degree oven for about 15 minutes, or until golden brown around the edges and all of the topping is heated through and bubbly. Slice and serve immediately. We like ours dipped in zesty marinara sauce!
Enjoy!
~Melissa
You may enjoy these related posts: