Print Friendly Version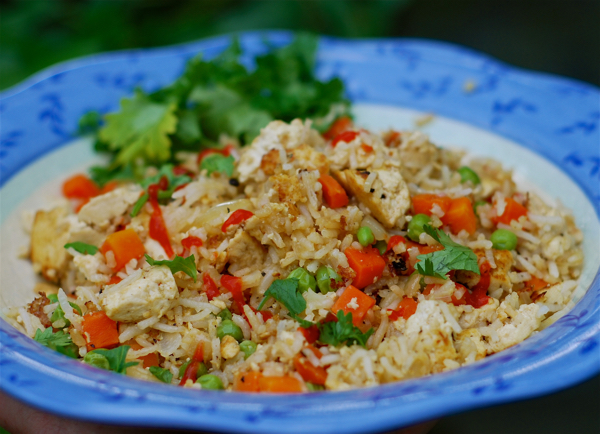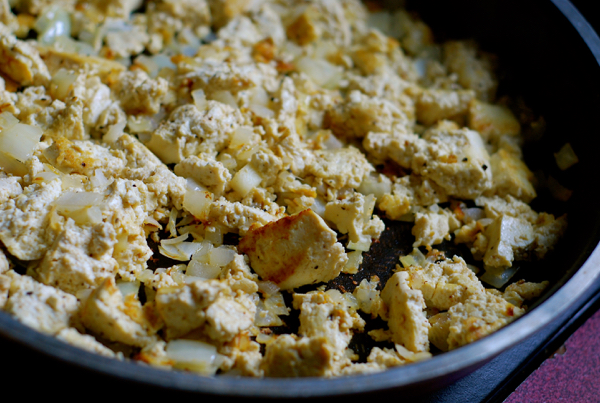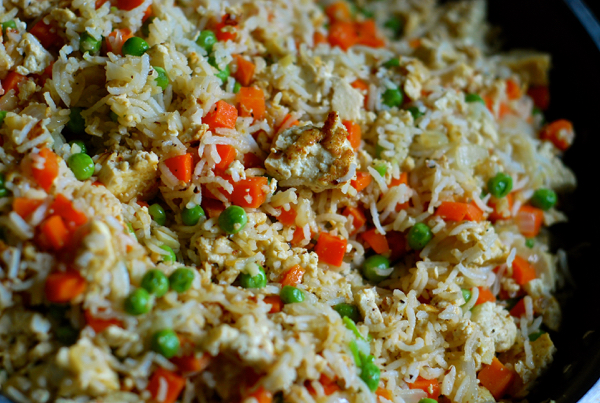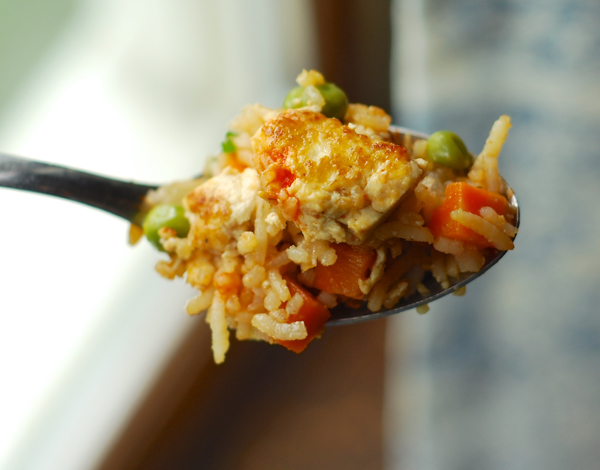 I had a craving for fried rice like the kind you get at the Chinese buffet so I made some for breakfast today. I can't believe I hadn't made it before this. It was SO easy and delicious! Tofu really is a magic ingredient. It's better than eggs, because no weird, sulfury, eggy flavor, no boiling and peeling, no cholesterol, no hormones, and no cruelty. YAY!
Side note: Did I mention some B stopped by to troll my blog and tell me I shouldn't say bad things about eggs? (Check out the comments on my vegan "egg" salad.) LOL… Sorry, petty, but she made me mad. Go start your own food blog, Egg Lady, and leave mine alone.
Anyhoo, let me tell you how to do this so you can enjoy it too. Ready? I think you're gonna love, love, love it!
2 to 3 Tablespoons olive oil, divided
1 lb. tofu, firm or extra firm, coarsely crumbled
1 medium yellow onion, chopped
3 cloves garlic, chopped fine
12 oz. frozen peas and carrots, thawed completely
1 cup chopped, fresh mushrooms, optional
2 cups cooked white or brown rice (this time I used white basmati)
1/4 cup light soy sauce, divided
1 Tablespoon agave syrup or brown sugar
1 teaspoon ground ginger or 2 Tablespoons fresh, grated ginger
1/2 teaspoon seasoned salt (I used Bamboo Kitchen brand)
1/2 teaspoon freshly ground black pepper
Place 2 Tablespoons of olive oil in a large, non-stick skillet over medium-high flame. Once hot, add the onion and the tofu. Leave the tofu in bigger chunks. Press down with the back of a spatula and allow to brown, approximately 10 minutes, checking from time to time to make sure it's browning and not burning. Once golden brown, gently stir, press down and allow to cook for another few minutes. Add garlic and cook an additional minute. Lower the heat to medium-low and add the peas and carrots, optional mushrooms, rice, soy sauce, agave, ginger, another little drizzle of oil, seasoned salt, and pepper. Stir gently to combine. Press down and allow to cook for about 5 minutes or until heated through.
Scoop servings into bowls and finish with any or all of the following options: hot sauce, dark sesame oil, chopped cilantro, toasted sesame seeds, and kimchi.
Enjoy!
~Melissa
You may enjoy these related posts: