Print Friendly Version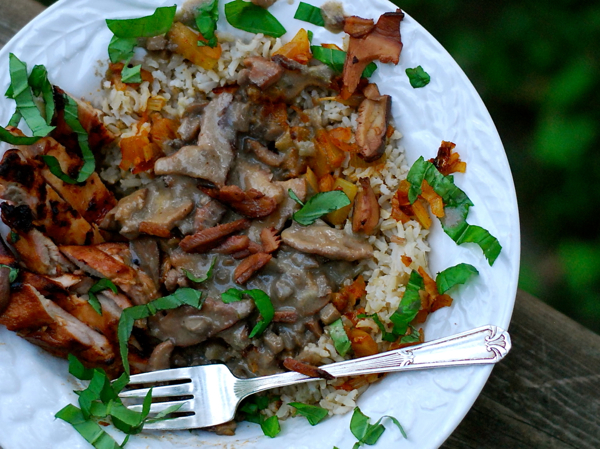 Oooohhhh…. This was SO good. The perfect, easy comfort food dish on a rainy summer day. It's made on the stovetop, so you're whole house won't heat up while you're cooking. Yay!
We've been reading about the health benefits of adding shiitake mushrooms to our diet, so we've been throwing them into sauces, gravies, soups, stir fries and even our breakfast eggs every chance we get.
I think you're going to love this!
~ serves 4 to 6 people ~
2 cups uncooked brown or white basmati rice
1 to 2 cups shiitake mushrooms, sliced
2 Tablespoons unslated, grass fed butter
1/3 cup dry red or white wine
1 can Amy's Mushroom Bisque with Porcini soup
4 boneless skinless chicken breasts or 6 boneless skinless chicken thighs, grilled
2-3 Tablespoons extra virgin olive oil
1 large onion, chopped
1 cup celery, finely chopped
2 large cloves fresh garlic, minced
2 teaspoons smoked paprika
1 teaspoon freshly ground black pepper
1 teaspoon Lawry's seasoned salt
chopped basil for garnish
Cook basmati rice according to package directions. Fluff with fork. Cover and set aside.
Heat the butter in a skillet. Add sliced shiitake mushrooms to skillet and saute until they've released their juices and have become golden and a bit sticky. Deglaze pan with the wine. Stir until mushrooms have absorbed most of the liquid. Add the can of soup. Heat through. Cover and set aside.
Grill chicken until juices run clear when sliced with a knife. Plate, cover with heavy duty aluminum foil, and set aside.
Heat olive oil in a clean skillet. Once hot, add the onion and celery. Add smoked paprika, pepper and seasoned salt. Saute until golden and translucent. Add garlic and cook an additional minute.
To plate:
Place some of the cooked rice in each bowl.
Top with some of the muchrooms, chicken and onion/celery mixture.
Garnish with fresh chopped basil.
Serve.
Enjoy!
~Melissa
You may enjoy these related posts: