Print Friendly Version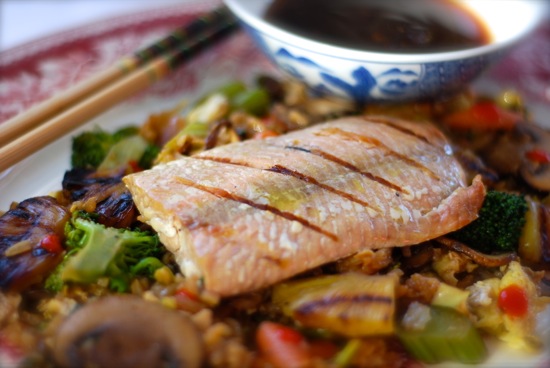 Still using your grill? I think autumn is a great time to grill, and I like coming up with fun menus where grilled meat or fish are the star of the show. Grilled fruits are wonderful over ice cream or bread pudding and add a rustic charm to dessert. Some people even grill their thanksgiving turkey! What is your favorite thing to grill this time of year?
Grilled salmon fried rice is great for breakfast, lunch of dinner. Healthy, filling and delicious.
serves 4
4 salmon fillets grilled until just flaky and hot
4 to 8 pineapple rings, grilled alongside the salmon
2 cups basmati or jasmine rice, cooked according to package directions
4 eggs, scrambled
2 cups stir-fried veggies (such as green onion, broccoli, celery, bok choy, red or green bell pepper)
2 cups stir fried mushrooms (we like baby bellas on this)
3 Tablespoons olive oil (for frying veggies)
1 Tablespoon dark toasted sesame oil
soy sauce and pepper, to taste
Sriracha hot sauce, to taste
Toss rice, scrambled eggs and stir fried veggies with the sesame oil. Season to taste with soy sauce, freshly ground black pepper and Sriracha hot sauce. Divide among four plates. Top with the grilled salmon fillets and pineapple rings. Drizzle your favorite teriyaki sauce over the top, or use it as a dipping sauce.
Enjoy!
~Melissa
You may enjoy these related posts: